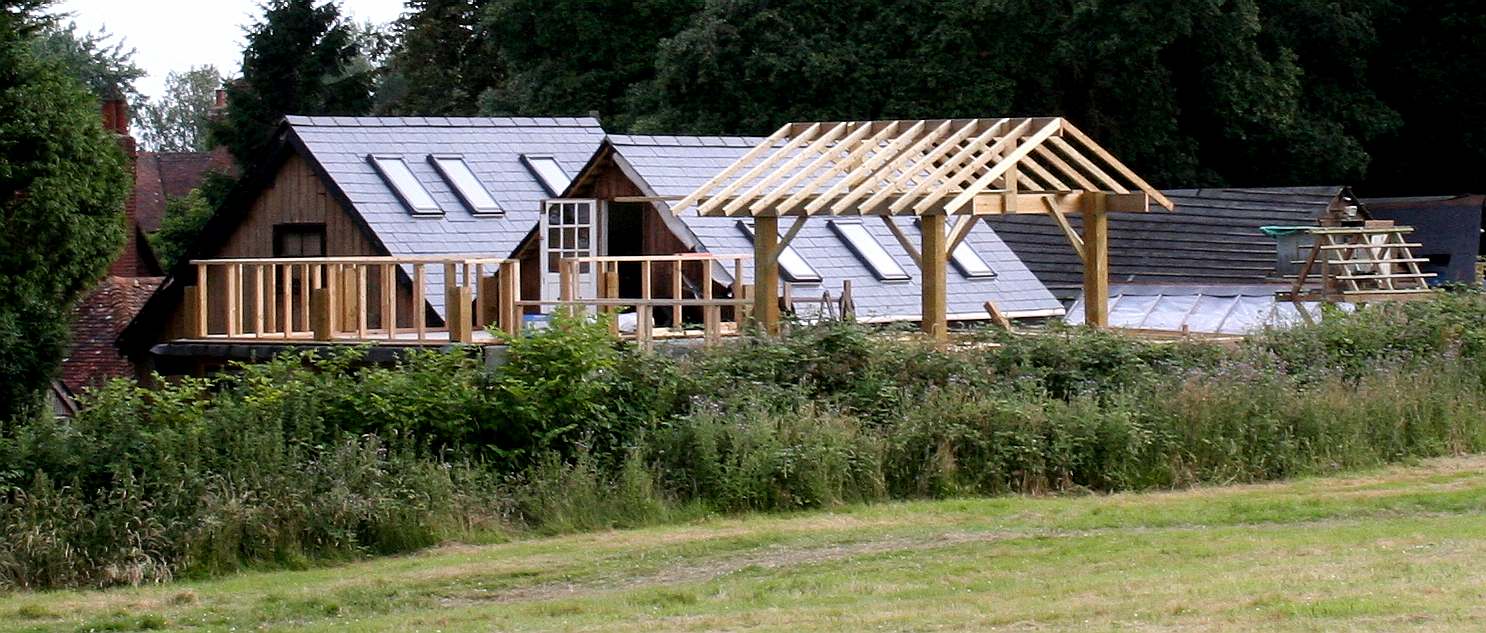 LAST SURVIVING - HISTORIC GEM & POTENTIAL STAR ATTRACTION - Archaeologically, the old Generating Works in Lime Park, is arguably, the most important building in the village, because it is the only surviving example of coal powered, early public supply, in the whole world. Heritage assets are places that tourists like to visit. With the character of Herstmonceux rapidly reducing to anonymity, historic landmarks add interest to the locality - that are few and far between.
Saved from collapse in 1981, this unassuming complex saw the beginning of the new age of electricity at the turn of the last century. In 1900, the only people who could afford Thomas Edison's 'EdiSwan' light bulbs were wealthy landowners. Even then, only a very few could afford batteries to store power. But in Herstmonceux, they had a massive energy store, with a whole unit full of lead plate batteries on shelves, crammed to ceiling height with huge glass cases filled with gallons of sulfuric acid. This is the very first electricity distribution load-levelling arrangement, and the only example surviving anywhere in the world. The picture above is thought to be of the building around 2017. Over the intervening years coal and glass have been dug up all over the site, confirming that when decommissioned, the batteries were sometimes smashed and buried on site. Conservation work continues with the reinstatement of the north wing, a section partly removed and partly collapsed before WWII - not visible in this picture.
Interestingly, RWE in Germany are now building giant battery stores (220MW) to stabilize their grids against solar and wind energy spikes. The concept is the same as begun here in this humble building around C. 1900. Before that, the Pillsford Project (2022) in East Yorkshire was the largest in Europe, with Ninfield in East Sussex (2023), being one of the latest additions to the race for sustainable electricity. Hence, Herstmonceux Museum is an obvious selection as a UNESCO World Heritage Site.
INDUSTRIAL ARCHAEOLOGY TECHNOLOGICAL FIRST
The old Generating Station, just 400 yards from Herstmonceux village, is probably the first, and the only surviving example of battery energy storage on a large scale C.1900, introduced as a way of levelling the village electricity load, during the evenings. This arrangement was to allow the generator to be switched off at night, for a peaceful sleep while still powering the Ediswann (Thomas Edison and Joseph Swann) light bulbs and street lighting.
More so, we need to cover the cost of preserving and caring for this heritage asset, to enable repairs and improvements to a high standard, even though not a listed building. We were on a Monument Protection Programme, doing our best without any outside financial assistance - and the structure is not out of the woods yet.
THE MUSEUM
Herstmonceux Museum is full of interesting exhibits that have been collected and preserved, but not until now, have these technological objet d'art been put on public display. The Museum is based in and around the old electricity generating station in Lime Park, just 400 yards walk from the village along the public footpath. A one minute jog, or 4 minute stroll. Parking is available in the village, behind the old Woolpack public house, or at the Cricket ground, leading to the cricket and bowls clubs.
The 'Trust' are aiming to hold at least twenty open days a year, from 2024, looking to become accredited. Museums enable people to explore collections for inspiration, learning and enjoyment. They are institutions that collect, safeguard and make accessible, artefacts and specimens, which they hold in trust for society.
Herstmonceux does not have many venues of such interest for serious archaeologists, and general interest culture vultures, especially that cater for children and adults. The Museum aims to plug that gap with a mix of attractions, adding to the Observatory and Windmill, as historic venues well worth taking the time to view - if you are planning a visit to East Sussex. Other local attractions include Drusillas and Knockhatch, though these are more animals and adventure theme parks.
The main feature of the Museum, is the original generating station itself. The structure of which is built of wood, was encased in iron as protection during World War Two, the iron cladding being removed in 2012.
In the modern age of electricity, the value of this surviving 'work of genius,' is the technology used to resolve the difficulty of providing regular supplies of energy, when the generator was switched off to keep the noise down at night. The solution was to have three buildings, two side by side, and one end on to the main generator housing. One section housed the 36 horsepower gas engine, the adjacent section a very large battery store (when compared to the evening load) which supplied the village street lighting and an electric bakery, among other buildings.
In modern times, this feature is seen as essential in regulating the irregular electricity supplies generated by solar and wind farms, that are subject to natural weather variations, hence troughs and peaks, that need a large energy store to smooth energy delivery. Rather like a capacitor, for those familiar with electrical circuits. There is a large modern battery energy store at Ninfield, installed in 2022-23, using the latest technology to further green the national grid.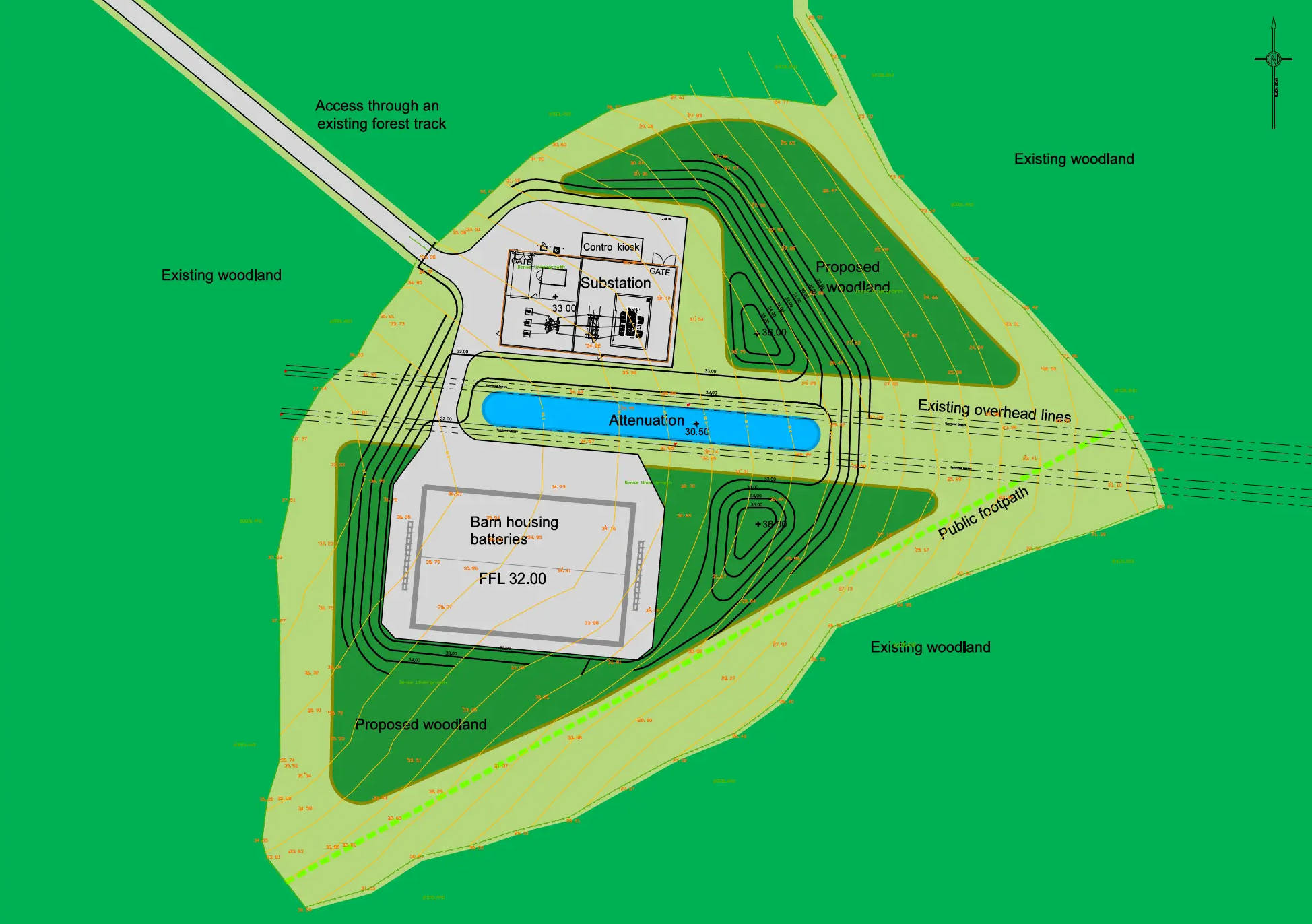 THE MODERN VERSION - In 2023, as part of National Grid, preparing for the transition to renewables, a battery store is being (or t be built) at Ninfield, just 5 miles (9 minutes) from Herstmonceux generating station.
The Museum, being the only surviving example of this technology anywhere in the world, is an important reminder of the stages of development of mankind, as we head towards the age of sustainability and a Circular Economy, as per SDG7 of the United Nation's Development Goals: "clean, cheap energy for all."
Where the UK is heading for austere times, we need to make the best use of all our heritage assets, to help combat inflation, and help bring in tourist dollars, to the ailing UK economy. While Museums show off our culture and are an educational resource, they are costly to maintain, where most are loss making concerns. They should therefore be given special consideration and support, at all levels of government, as part of the duty to protect the historic built environment.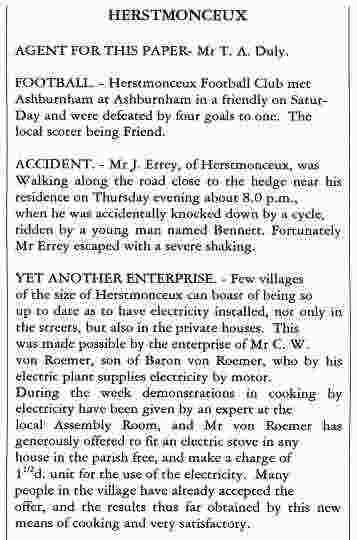 SUSSEX EXPRESS FRIDAY, OCTOBER 10 1913 - HERSTMONCEUX - AGENT FOR THIS PAPER - Mr T. A. Duly.

FOOTBALL - Herstmonceux Football Club met Ashburnham in a friendly on Saturday and were defeated by four goals to one. The local scorer being Friend.

ACCIDENT - Mr J. Errey, of Herstmonceux, was walking along the road close to the hedge near hi residence on Thursday evening about 8.0 p.m., when he was accidentally knocked down by a cycle, ridden by a young man named Bennet. Fortunately Mr Errey escaped with a severe shaking.

YET ANOTHER ENTERPRISE - Few villages of the size of Herstmonceux can boast so up to date as to have electricity installed, not only in the streets, but also in the private houses. This was made possible by the enterprise of Mr C. W. von Roemer, son of Baron von Roemer, who by his electric plant supplies electricity by motor.

During the week demonstrations in cooking by electricity have been given by an expert at the local Assembly Room, and Mr von Roemer has generously offered to fit an electric stove in any house in the parish free, and make a charge of 1 1/2d. unit for the use of electricity. Many people in the village have already accepted the offer, and the results thus far obtained by this new means of cooking and very satisfactory.
The Museum is home to three full-size early electric vehicle designs - encased under glass and architectural grade polycarbonate, each featuring innovative energy cartridge exchange, by way of instant recharging. These vehicles were many years ahead of their time. One EV (a small gull-wing city car) is a hydrogen FCEV that can swap to batteries (BEV) and back to hydrogen within a couple of minutes, using this patented technology.
There is also the world's smallest wind tunnel, and hand made small scale models of the cars on display, that were tested in this handy instrument, and other larger models used for promotional purposes.
1. The fountain of youth, supplied from natural well water
2. Adventure climbing frames for children (back to nature)
3. An ice well, throwback to the days before refrigeration
4. An underground condensation and water storage chamber
5. The world's smallest water test tank
6. Three solar boat models
7. Seavax, the ocean cleanup prototype from 2016.
8. Anthony the giant bulldog ant, 300 times normal size
9. EV - FCEV refueling station in 1:20 scale
10. The only working well in Herstmonceux village
11. Solar panel, sun tracking system
12. An Anderson bomb shelter built by Major Charles de Roemer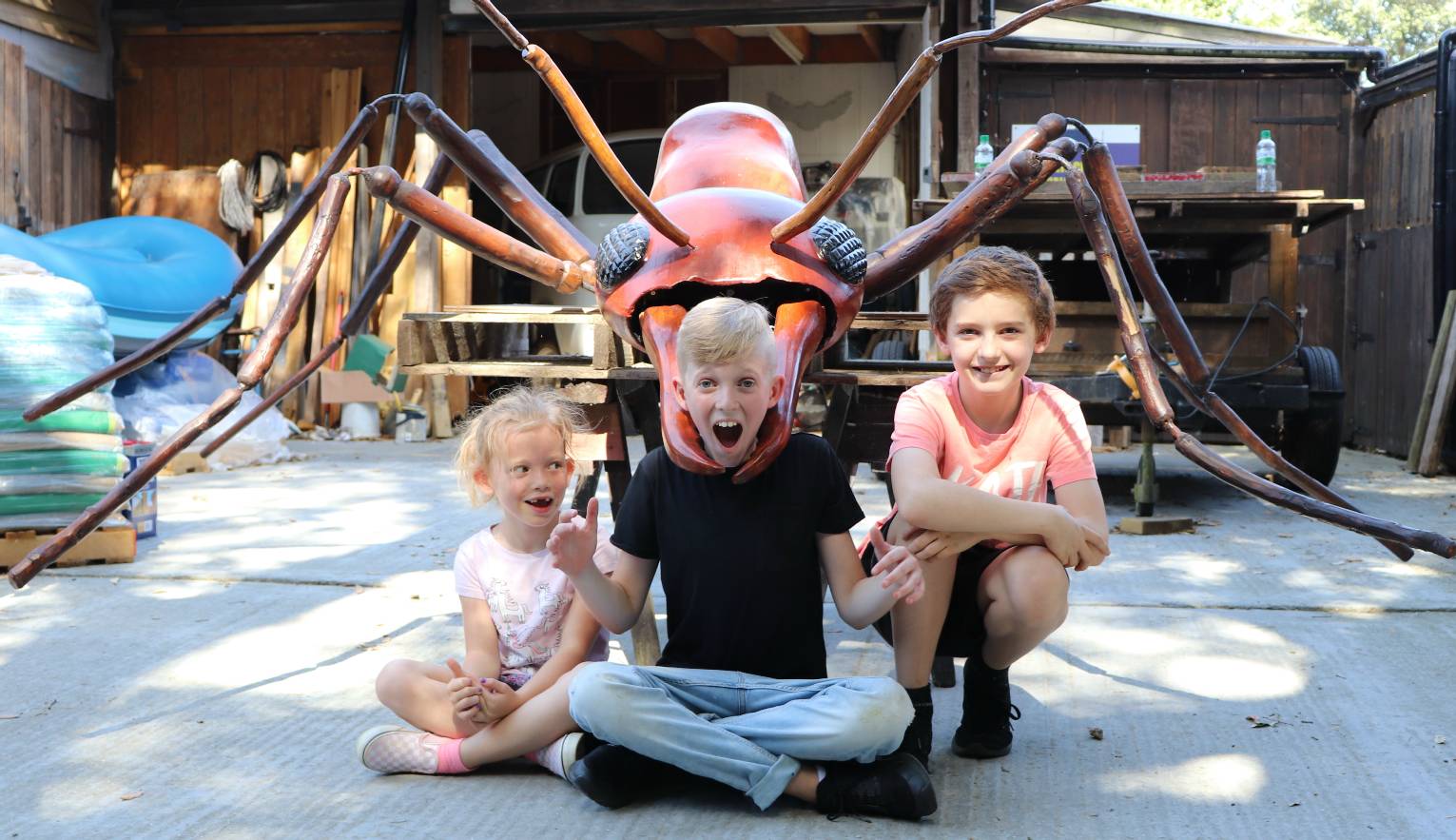 ANTHONY THE MAGIC DINOBOT - Special effects animatronics/artwork for a Jameson Hunter story (under development).

SAY HELLO TO ANTHONY
On the balcony of Tarzan's Sussex Lodge, is a giant model of an Australian Bulldog Ant, made by a local artist at 300 times full size, from sycamore and other woods cut on site. Shades of Marvel's Ant Man, or Jules Verne's Mysterious Island. Make a small one yourself, to take home, if you feel creative. This sculpture is over 10 feet long, including the antennae. We'd suggest making something a little smaller. Say 5-10 inches (125-250mm).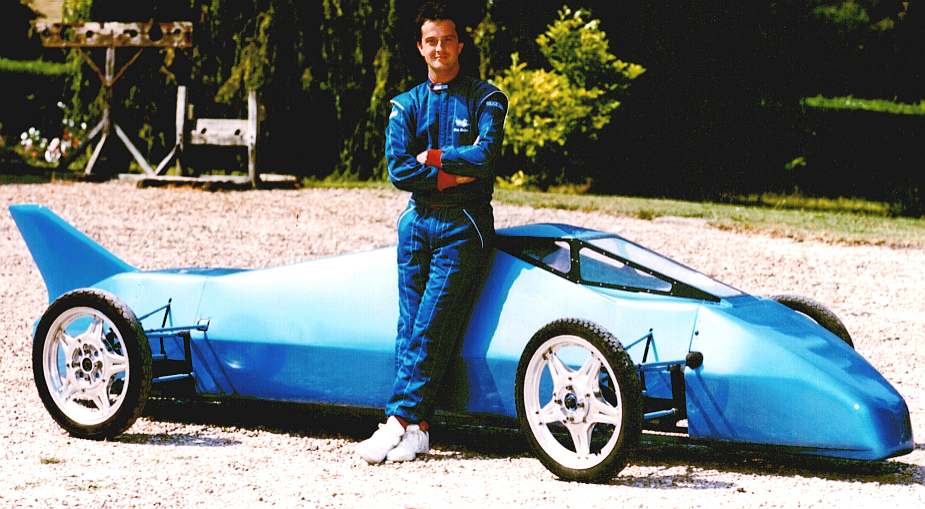 BE1 - This nice looking machine, is the original Bluebird-Electric 1, hand built at Herstmonceux Museum and Filching Manor, near Wannock and Polegate, in Sussex. Don Wales is pictured standing beside the sleek machine outside Filching Manor, with kind permission of Paul and Greta Foulkes-Halbard.

RURAL ELECTRICITY SUPPLIES - A National gas engine of 36 horsepower, single cylinder, with a generator clearly visible on the right hand side of the crankshaft. An engine near identical to this one was fitted at Herstmonceux. This one being at Mr de Roemer's aviation factory at the Crumbles, Eastbourne. Famous visitors included: Lord & Lady Gage, Lord & Lady Hailsham and Lord & Lady Shawcross.
The British Government's department for looking after museums, is the DCMS, Department for Digital Culture, Media & Sport. Historic England, is also responsible in part, though appears to only deal with listed buildings and scheduled monuments.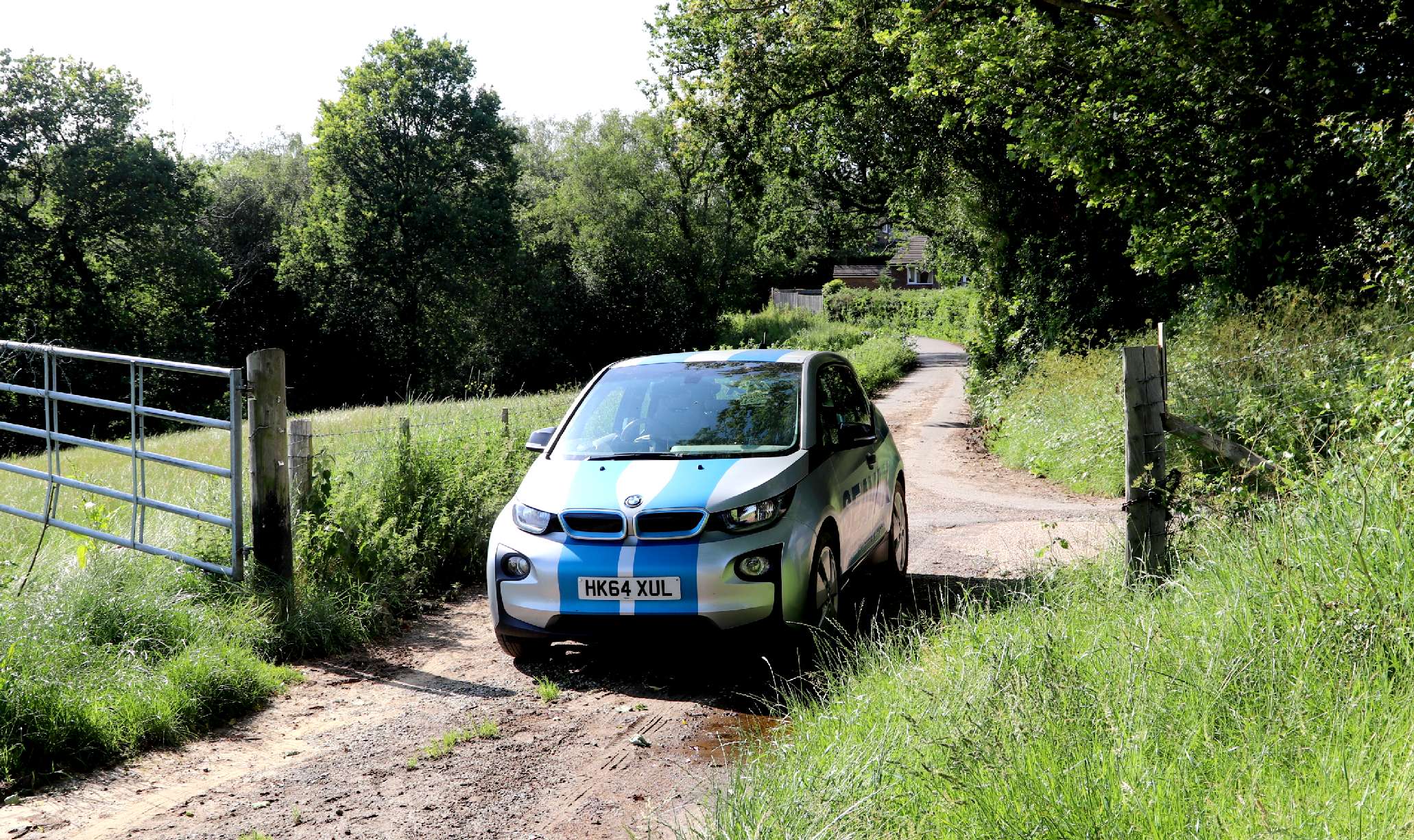 ACCESS - Unusually, the Generating Works is the only building in the village served by three roads. The other properties in Lime Park have north and south access roads, with the southern access feeding off Church Road. While the northern access feeds from the A271 entrance (popularly) to the cricket grounds and tennis courts, etc., where there is a car parking space. Whereas, the Generating Works has a third access, from Lime Cross heading for the coal bunker to the rear of the building. These service roads are important features historically and must be preserved for posterity. The car in the picture is electric, by the way. We will all be driving clean one day, with a bit of luck. Sporty too this one, a BMW i3, 170 horsepower and made of carbon fibre. This model with an onboard generator, as a range extender. Thus can also run on petrol, or green methanol.
PLEASE NOTE: There is no access for ordinary (public) traffic, this is a private road (right of way) for those wishing to visit the museum, and only on open days.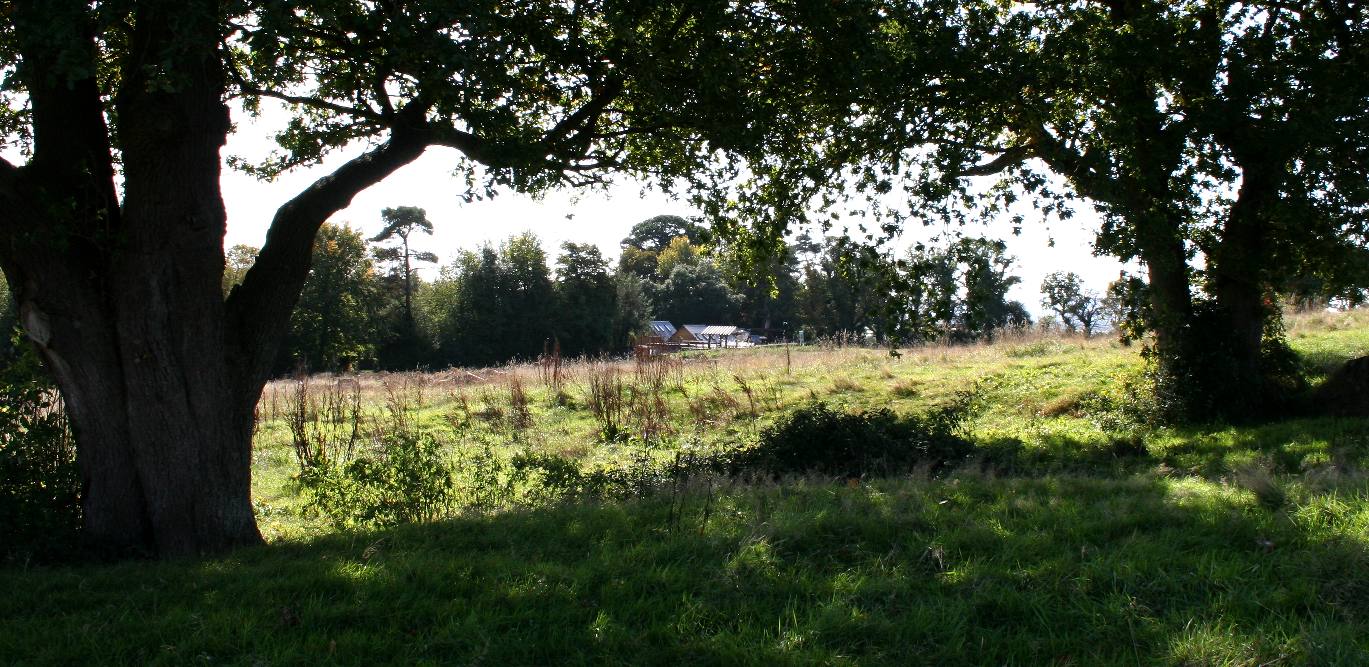 HERITAGE VIEW - A familiar sight to walkers in Herstmonceux, but the building in the distance is one of the most important surviving generating buildings in the world, because of the load-levelling of the public electricity supply, using a large battery store. An added complication, that most municipal installations lacked. But this feature is essential in the fight against climate change. Where renewable supplies are not constant, so need buffering, a bit like a large capacitor is used to smooth current flow in electrical circuits. We need to protect this unique example of rural electrification, so many years ahead of its time in terms of the technology applied to solve, what was at the time a noise problem.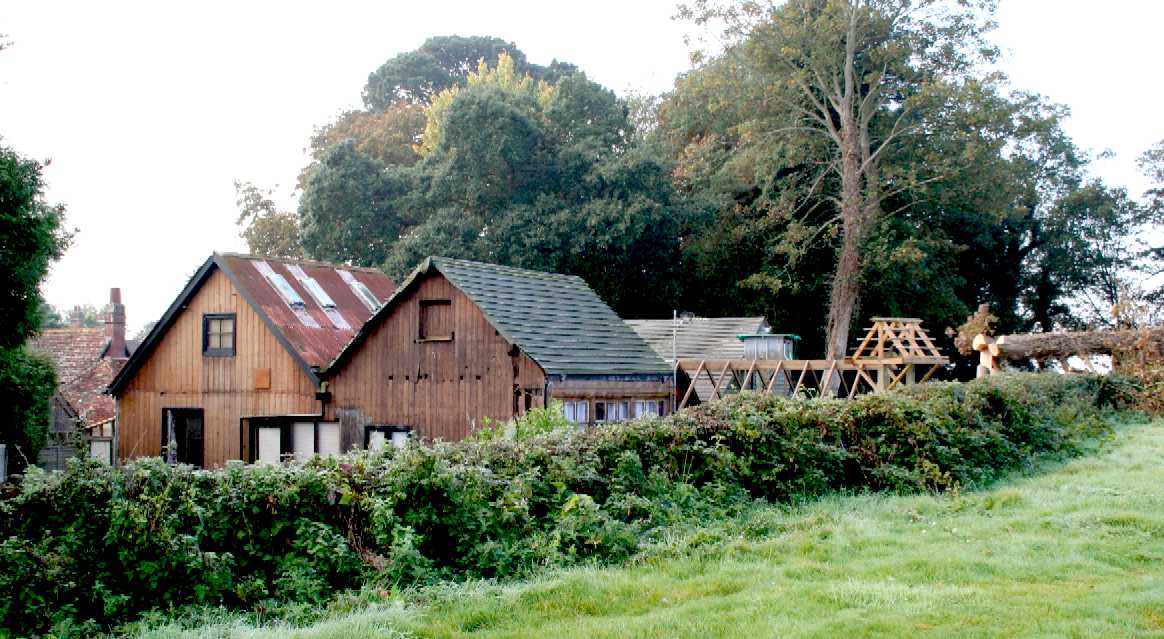 POTENTIAL FUTURE UNESCO WORLD HERITAGE SITE CONTENDER - See: Margaret Pollard's memories of Herstmonceux 2005, London University survey 1999, and Ronald Saunders statement July 1997, if you like reading in-person historical accounts. The generating works is seen here in 2014. Note, that in this picture, the north wing has been taken down. This is now partially re-instated.

LINKS & REFERENCE
https://www.nationaltrust.org.uk/batemans
https://batterseapowerstation.co.uk/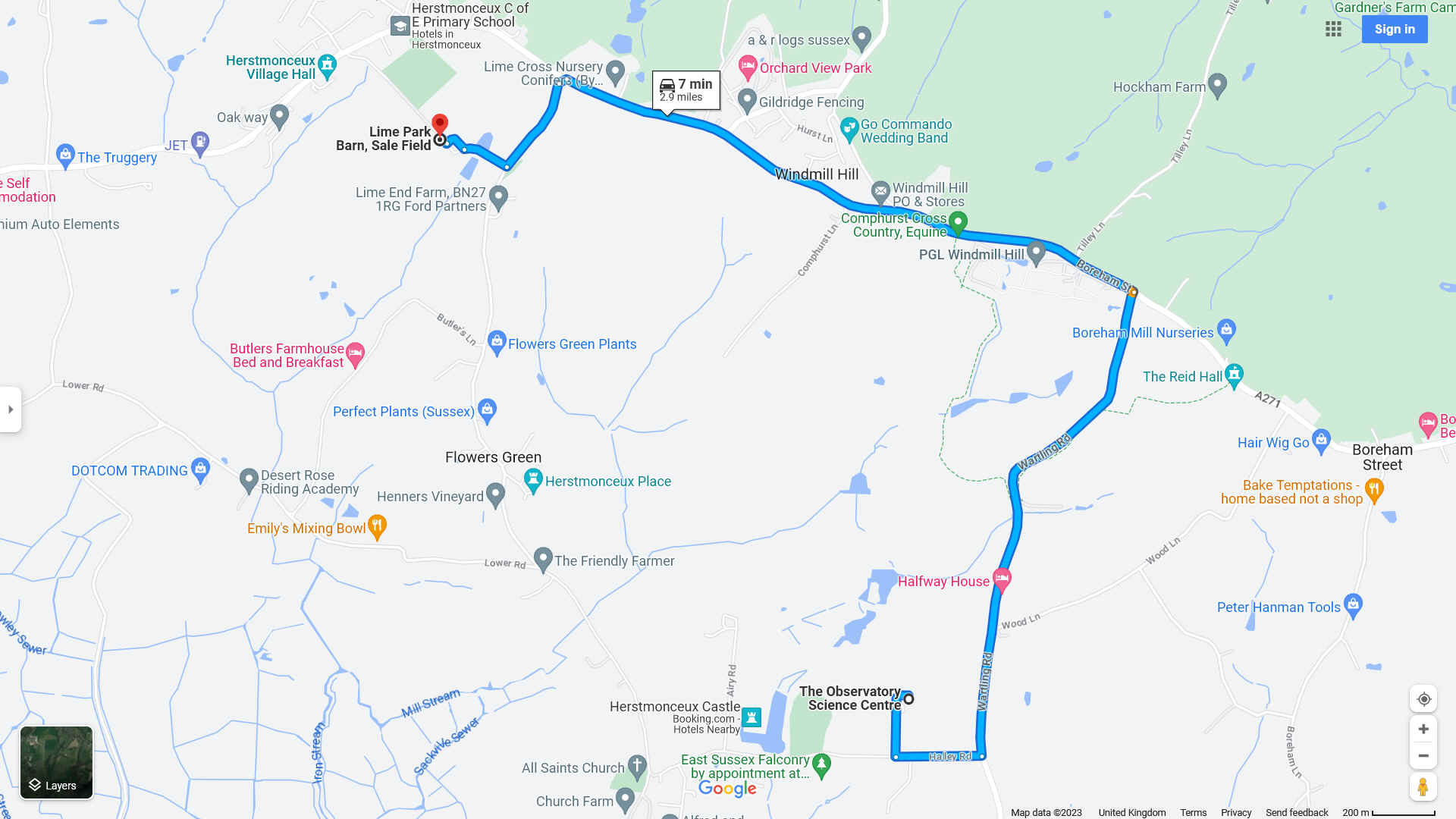 MAP SHOWING PROXIMITY TO THE OBSERVATORY - Herstmonceux Museum is some 2.9 miles and 7 minutes drive from The Observatory Science Centre, based at Herstmonceux Castle.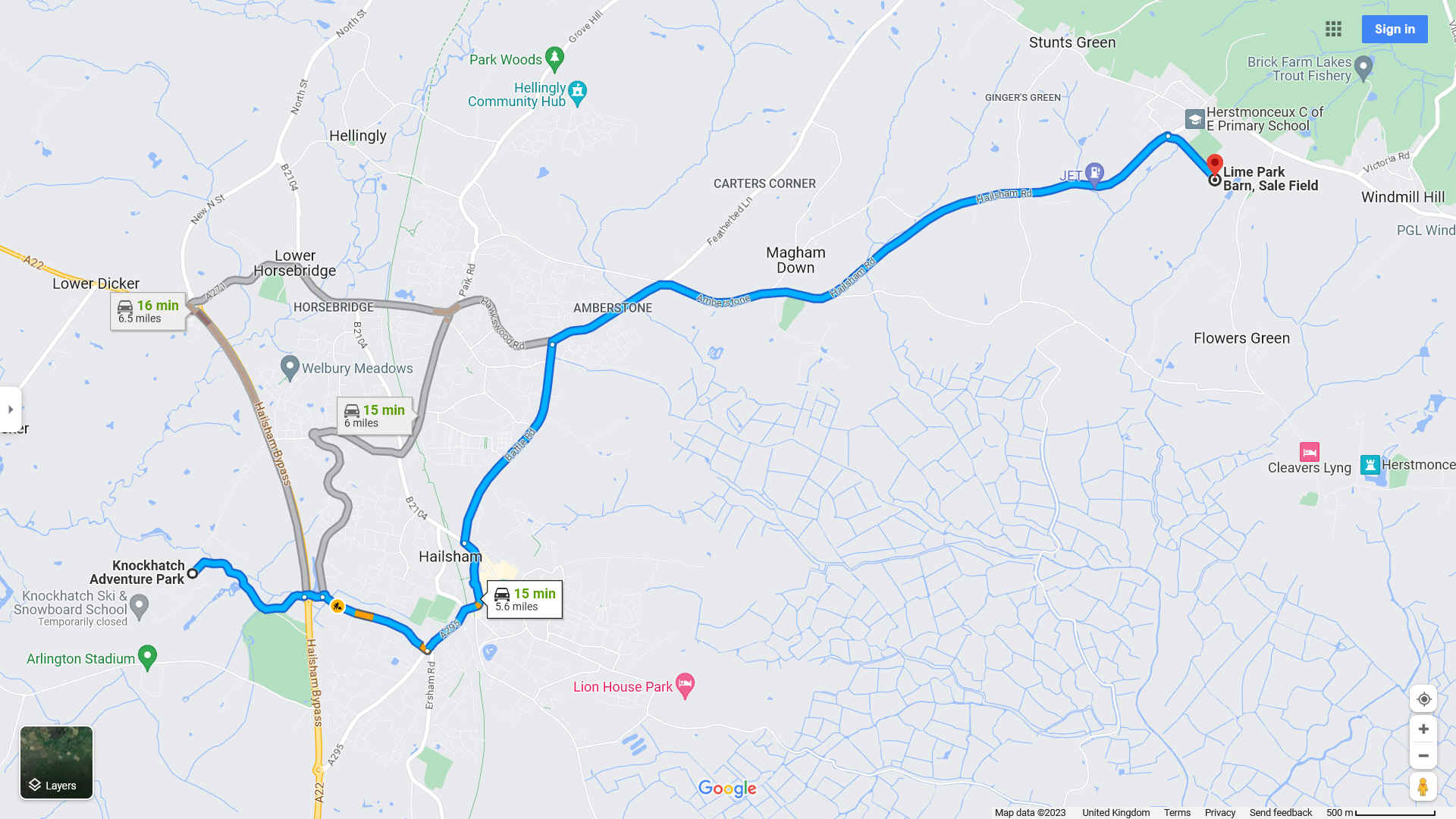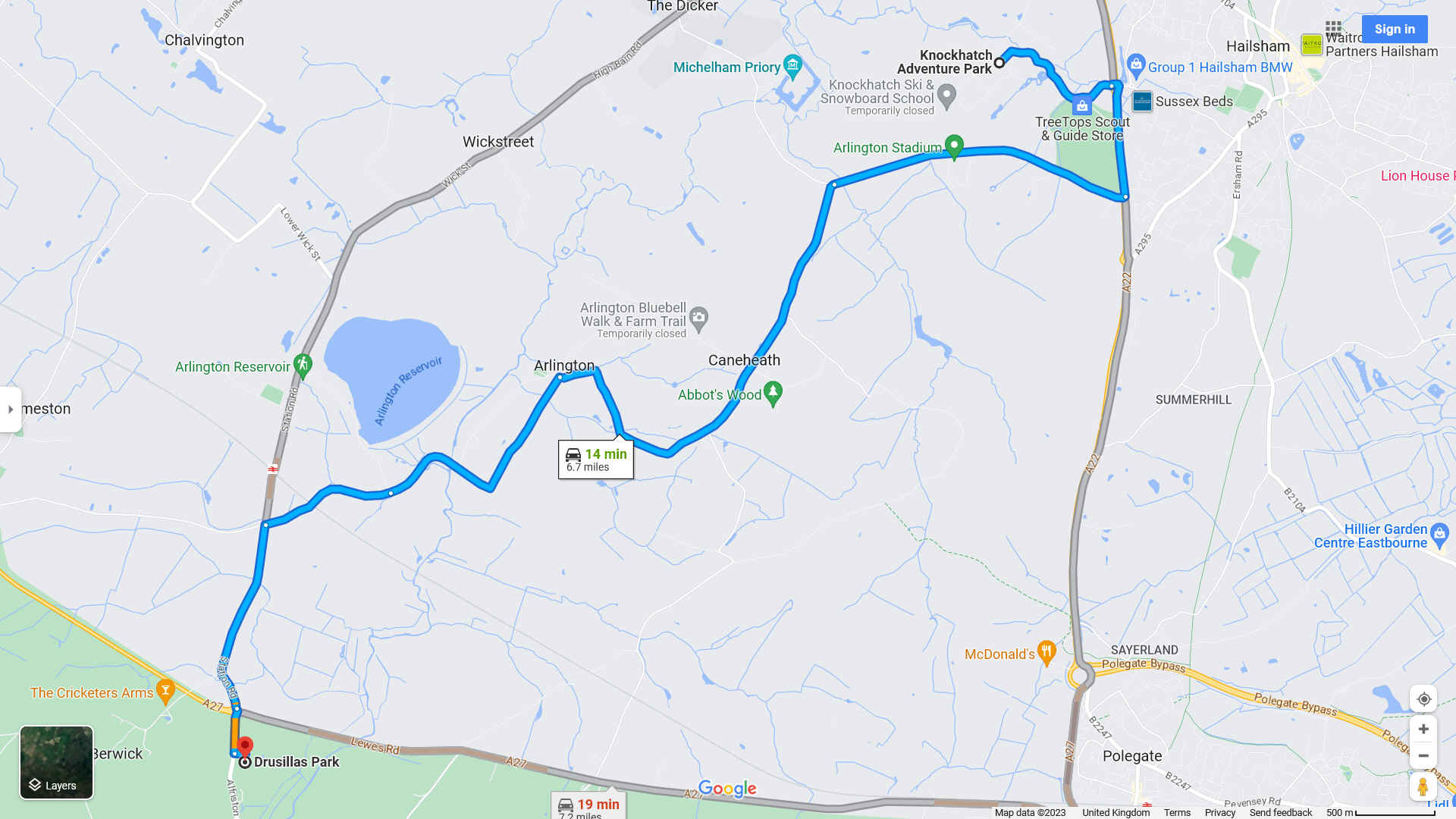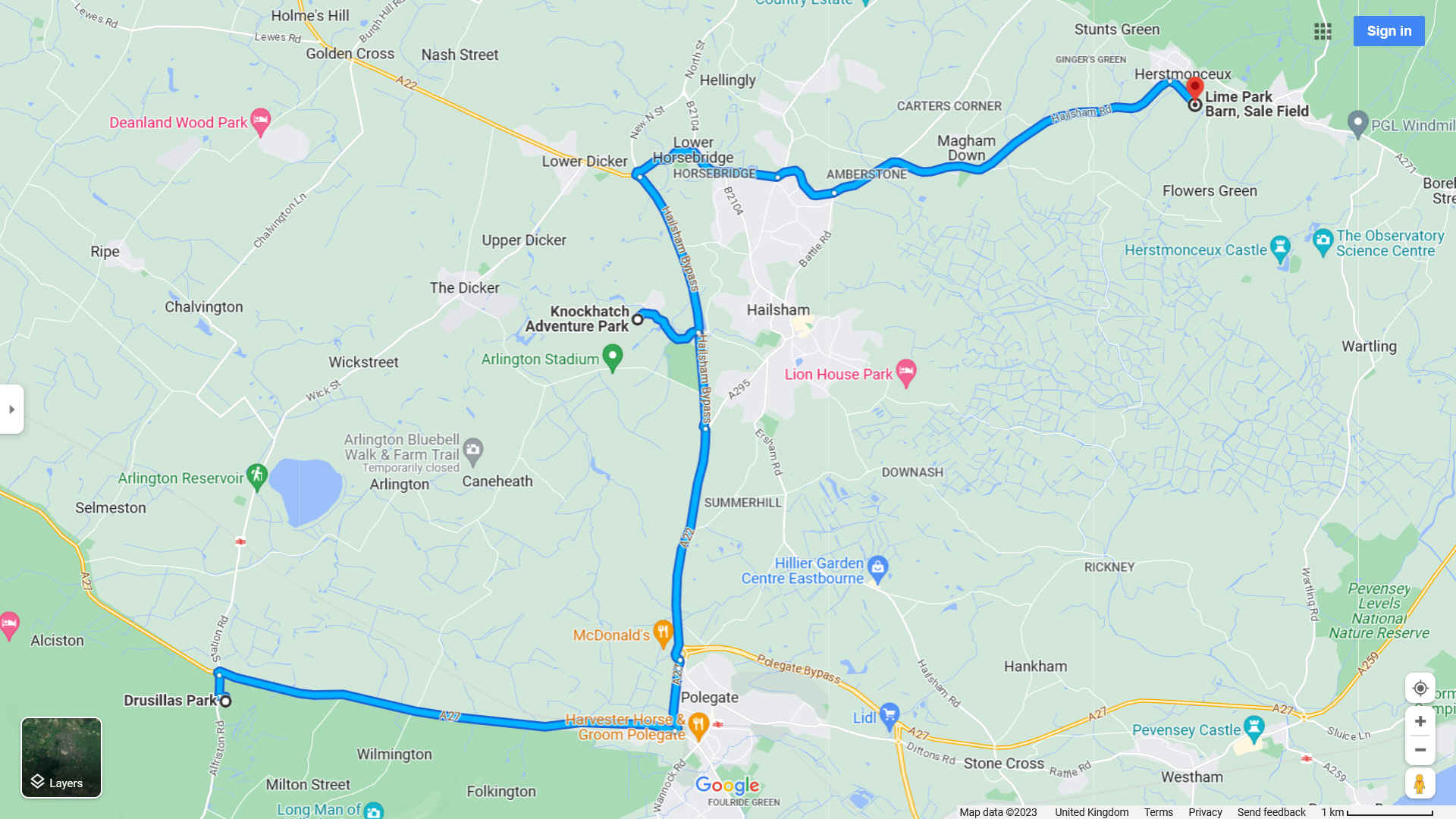 MAP SHOWING PROXIMITY TO OTHER SUSSEX ATTRACTIONS - Herstmonceux Museum is some 15 minutes drive from Knockhatch Adventure Park, and another 14 more minutes on the A22 dual carriageway, then A27 to Drusillas Zoo Park.