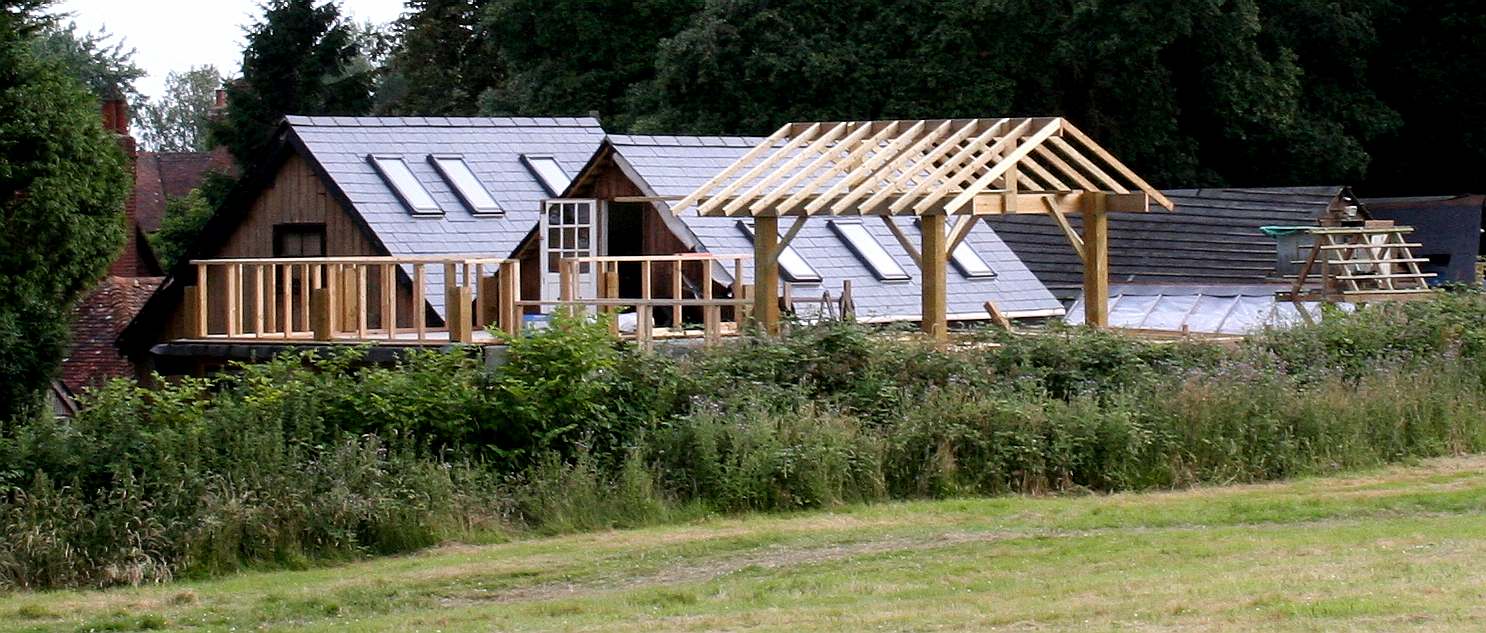 HISTORIC GEM & POTENTIAL STAR ATTRACTION - Archaeologically, the old Generating Works in Lime Park, is arguably, the most important building in the village, because it is the only surviving example of coal powered, early public supply, in the whole world. Heritage assets are places that tourists like to visit. With the character of Herstmonceux rapidly reducing to anonymity, historic landmarks add interest to the locality - that are few and far between. Unfortunately, there is no Local List in Wealden. Regardless, this is an obvious selection as a future UNESCO World Heritage Site.
Saved from collapse in 1981, this unassuming complex saw the beginning of the new age of electricity at the turn of the last century. In 1900, the only people who could afford Thomas Edison's 'EdiSwan' light bulbs were wealthy landowners. Even then, only a very few could afford batteries to store power. But in Herstmonceux, they had a massive energy store, with a whole unit full of lead plate batteries on shelves, crammed to ceiling height with huge glass cases filled with gallons of sulfuric acid. This is the very first electricity distribution load-levelling arrangement, and the only example surviving anywhere in the world. The picture above is thought to be of the building around 2017. Over the last five years coal and glass have been dug up all over the site, confirming that when decommissioned, the batteries were sometimes smashed and buried on site. Conservation work continues with the reinstatement of the north wing, a section partly removed and partly collapsed before WWII - not visible in this picture. Interestingly, RWE in Germany are now building giant battery stores (220MW) to stabilize their grids against solar and wind energy spikes, to compete against the 196MWh Pillsford installation in East Yorkshire, and Ninfield Green Park. The concept is the same as begun here in this humble building around C. 1900.
Once upon a time in the sleepy Sussex village of Herstmonceux, there lived a very amenable German fellow called the Baron Karl von Roemer, who made the ultimate sacrifice in World War One. Karl had an exceptionally brilliant son called Charles, to carry forward his torch. Charles was an Etonian and all-round good-egg.
Before World War One, Charles de Roemer experimented with electrical apparatus, finally, building a series of large wooden houses in the northern corner of his estate for all his clever chums to install machines of wonder, that turned coal into gas, and gas into electricity via a single cylinder gas engine. This was around C. 1898. By 1909 part of his enterprise was included on an Ordnance Survey Map. By 1913, his exploits were recorded in the vicinity, by being included in the local paper. One mention in particular was for giving baking demonstrations using electric cookers. Well, I never! Electric ovens in 1913. Meaning that, the underground cables from Lime Park to Gardner Street, must have been substantial to carry the load. But where are they?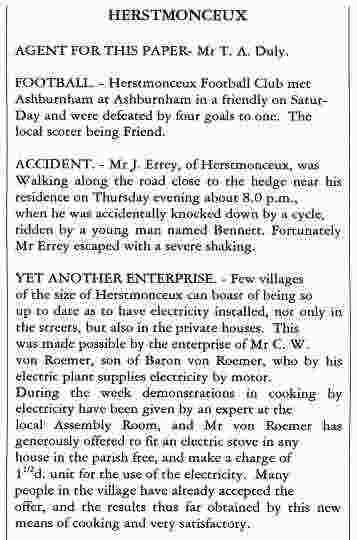 SUSSEX EXPRESS FRIDAY, OCTOBER 10 1913 - HERSTMONCEUX - AGENT FOR THIS PAPER - Mr T. A. Duly.

FOOTBALL - Herstmonceux Football Club met Ashburnham in a friendly on Saturday and were defeated by four goals to one. The local scorer being Friend.

ACCIDENT - Mr J. Errey, of Herstmonceux, was walking along the road close to the hedge near hi residence on Thursday evening about 8.0 p.m., when he was accidentally knocked down by a cycle, ridden by a young man named Bennet. Fortunately Mr Errey escaped with a severe shaking.

YET ANOTHER ENTERPRISE - Few villages of the size of Herstmonceux can boast so up to date as to have electricity installed, not only in the streets, but also in the private houses. This was made possible by the enterprise of Mr C. W. von Roemer, son of Baron von Roemer, who by his electric plant supplies electricity by motor.

During the week demonstrations in cooking by electricity have been given by an expert at the local Assembly Room, and Mr von Roemer has generously offered to fit an electric stove in any house in the parish free, and make a charge of 1 1/2d. unit for the use of electricity. Many people in the village have already accepted the offer, and the results thus far obtained by this new means of cooking and very satisfactory.
Because of the stigma of World War One, and former German nationals being treated with suspicion by the likes of the Home Guard (Dad's Army), the family dropped the titles 'Baron' and Von, and became the 'de Roemers.'
Since the name 'Herstmonceux,' or 'Hurstmonceux,' literally means a clearing in the wood - a "Hurst" - made by the "Monceux's," a tribe of French (Gallic) origin, their new name was most suitable. Especially as Charles formed the Eastbourne Aviation Company, and started building seaplanes for the British Royal Navy down on the Crumbles. He was a most enterprising man, but as Baron von Roemer, vis der German namen, the Ministry of Defence might have raised an eyebrow or two.
But for the little village of Herstmonceux, Charles de Roemer sparked up his gas-engine-driven generating plant and provided electricity, night and day, at between 48-56 volts DC, though accounts are somewhat conflicting as to the specifications. There is some mention of 110 volts. By day you would hear the rumble of the gas engine and watch the lights go bright and dim in rhythm with the single cylinder 'National' gas engine (36 horsepower), as the Crompton generator charged the batteries and powered the village, especially the bakery, that boasted loaves cooked by electric machines. At night the gas engine would be switched off, and the local grid switched over to battery power only. That way there was no noise in the evenings and the locals could get a good nights rest.
This is the earliest surviving example of commercial utility load-levelling in the world. Making the modest industrial complex rather more important than competing local developers would have you believe. To underrate the importance of ancient industrial buildings, just because they don't fit in with property developers ideals, to generate higher profits from refurbishments, is like calling Khufu's Pyramid at Giza just a pile of rock in a sandy waste. In our view such attitude is archaeological heresy.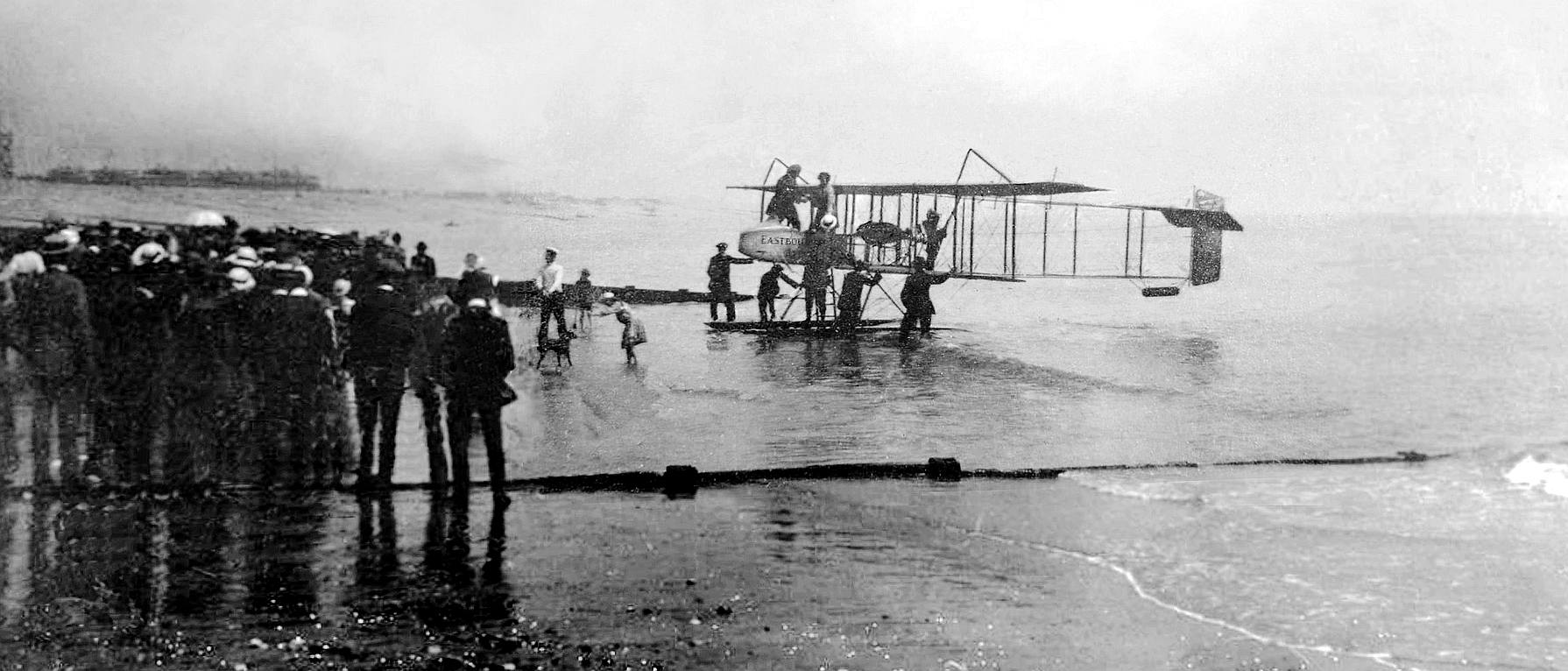 There is no other building in the village with such a claim to fame. There are of course other listed buildings of various grades, but none that have been put on a Monument Protection Programme, and none with such importance internationally, as evidence of the modern Age of Electricity, that we live in today. Today we are reliant on, electronics, computers and the internet, and now even more so as we convert to electric automobiles from fossil fuels, to combat the man-made climate change crisis - as a matter of some urgency.
In the UK and around the world, 2035 is a target agreed by the Paris Accord in 2015, as such in Europe they are doing their best to phase out petrol and diesel powered coffin makers, halting all such sales. Lithium batteries power most EVs today, with hydrogen fuel cells being forecast as the eventual winner to make use of green hydrogen for Smarter Cities.
The Trust that is charged with the upkeep of the historic site, is keen to make this heritage asset available to the public. Looking to the Department of Culture, Media & Sport (DCMS) for help and guidance, as applicable. The Trust were advised in 2023 that Historic England has a limited remit, that does not include UNESCO world heritage site (tentative) lists.
Historic England (formerly English Heritage) has limited resources to be able to keep up with modern history in a rapidly changing technological world. They have their hands full coping with the thousands of ruins all over the land.
Accordingly, there were only 3 buildings in England that were recorded on a survey in 1999 that included electricity. The other two were Rudyard Kipling's house at Burwash (Batemans), that had a small waterwheel driven dynamo to power 10 light bulbs in the house, and Battersea Power Station (1929-1935 and 1955) in London. None of these had any kind of load levelling. And Herstmonceux was the earliest to provide electricity to the public via a network of underground and overhead cables, to qualify as part of the developing National Grid.
RURAL ELECTRICITY SUPPLIES - A National gas engine of 36 horsepower, single cylinder, with a generator clearly visible on the right hand side of the crankshaft. An engine near identical to this one was fitted at Herstmonceux. This one being at Mr de Roemer's aviation factory at the Crumbles, Eastbourne. Famous visitors include: Lord & Lady Gage, Lord & Lady Hailsham and Lord & Lady Shawcross.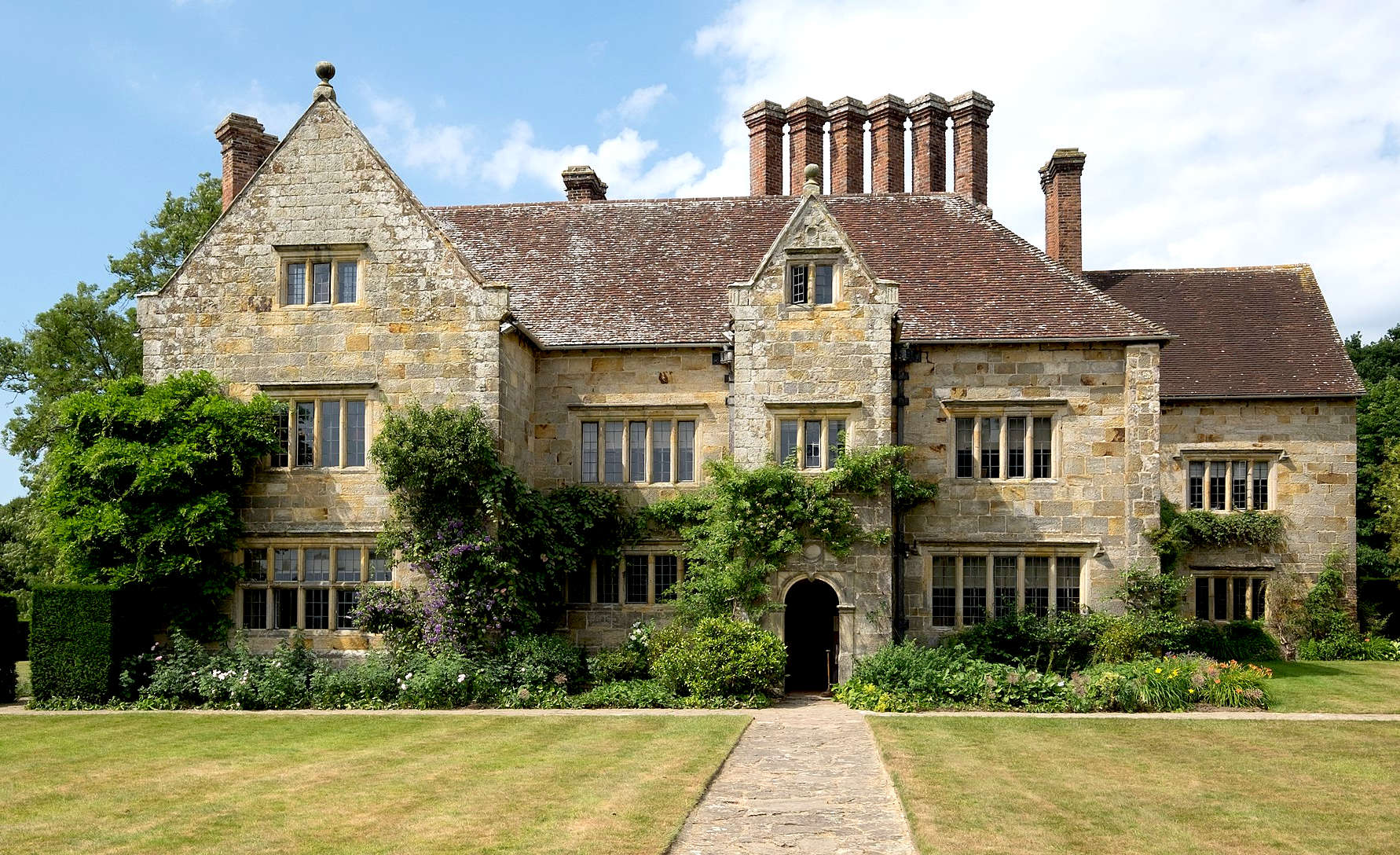 The Batemanís estate consists of 300 acres of beautiful High Weald Countryside. Set within the High Weald Area of Outstanding Natural Beauty, this landscape is classically medieval; full of small fields, hedgerows, old trees, abandoned iron ore pits, hidden ponds and magical deserted trackways. Batemans has something in common with Herstmonceux generating station, in both being on the same Monument Protection Programme.
CONSERVATION & LAW
The forerunner to Historic England, English Heritage (EH), included the Generating Works on a Monuments At Risk Survey (MARS) from about 1999, following advice from the Sussex Industrial Archaeology Society and County Archaeologist, Dr. Andrew Woodcock.
In or around 1936, the Weald Supply Company took over the network in Herstmonceux, going over to 220 volts and alternating current, according to Seeboard Magazie. 1936 was the last time the 'National' gas engine ran in Herstmonceux, and that was to ensure that compensation was paid to Charles de Roemer for his role in promoting electricity. Then came World War Two.
Preparations for the War, included building a double skinned bomb shelter into the side of a hill, adjacent to the coal bunker, also built into a hillside. The roof of the bomb shelter has substantial girders encased in concrete. While the remainder of the building is brick.
At the same time, or a few years before, it is thought that the generating building was encased in corrugated iron. This was later to be the cause of much confusion on the part of the local authority, who were unaware of this fact, believing it to be the original construction method. They did not realise that the building was timber framed and match-boarded, underneath. Nor were these claims investigated. Thus, the matter was nor put before the County Archaeologist, or English Heritage - despite advice in Government Circulars, as to the correct procedure.
Finally, amidst clouds of obfuscation, Archaeology South East a subdivision of London University, were commissioned to provide an independent survey and report, as to what the extant building actually was. Barbara and David Martin acted like a time team, measuring and recording what evidence they could in a few short hours in September 1999. The shocking conclusion was that the occupiers various had been right all along. The extant building was the original generating works.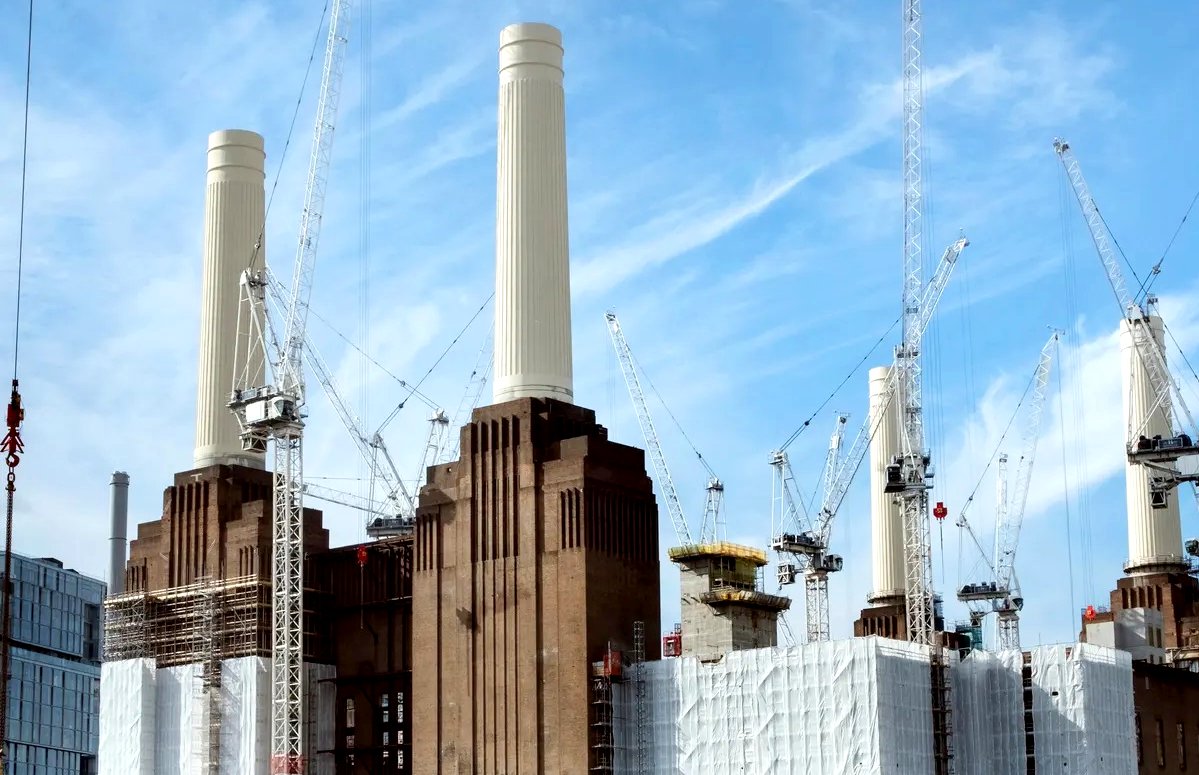 2021 - The Battersea power station development is valued at £1.6 billion according to media sources, funded by Malaysian investors, now in 2021 with units available for residential occupation.
By 1981, the generating buildings were in danger of collapse, with many of the internal partitions rotted away as earth and flora had bridged the slate damp-proof courses. The building was actually leaning, like the famous Tower at Pizza.
Lime Park had been sold many times over, and divided up into smaller parcels of land as property developers swooped in for the kill, one of which was Wickens Estates. Lime House was divided into four terraces and the former stable converted to a very pleasing house and courtyard, with the former southern gatehouse (grade II listed) becoming a separate property. Unfortunately, the gatehouse at the other end of the service road was demolished, in favour of a block of flats.
So it was that in 1981, number 4 Lime Park saw a new owner divide off the generating complex, as being a liability, rather than as asset. And indeed it was a liability in the state it was. Fortunately, the engineer who purchased the site was also a handyman. Such that in very short order, the main structure had been shored up and all the sycamore trees that were causing significant damage to the historic remains, were mostly removed. Strangely, this essential husbandry was frowned on by local officials, who lumbered the site with a hefty Tree Preservation Order, that took many years to unravel.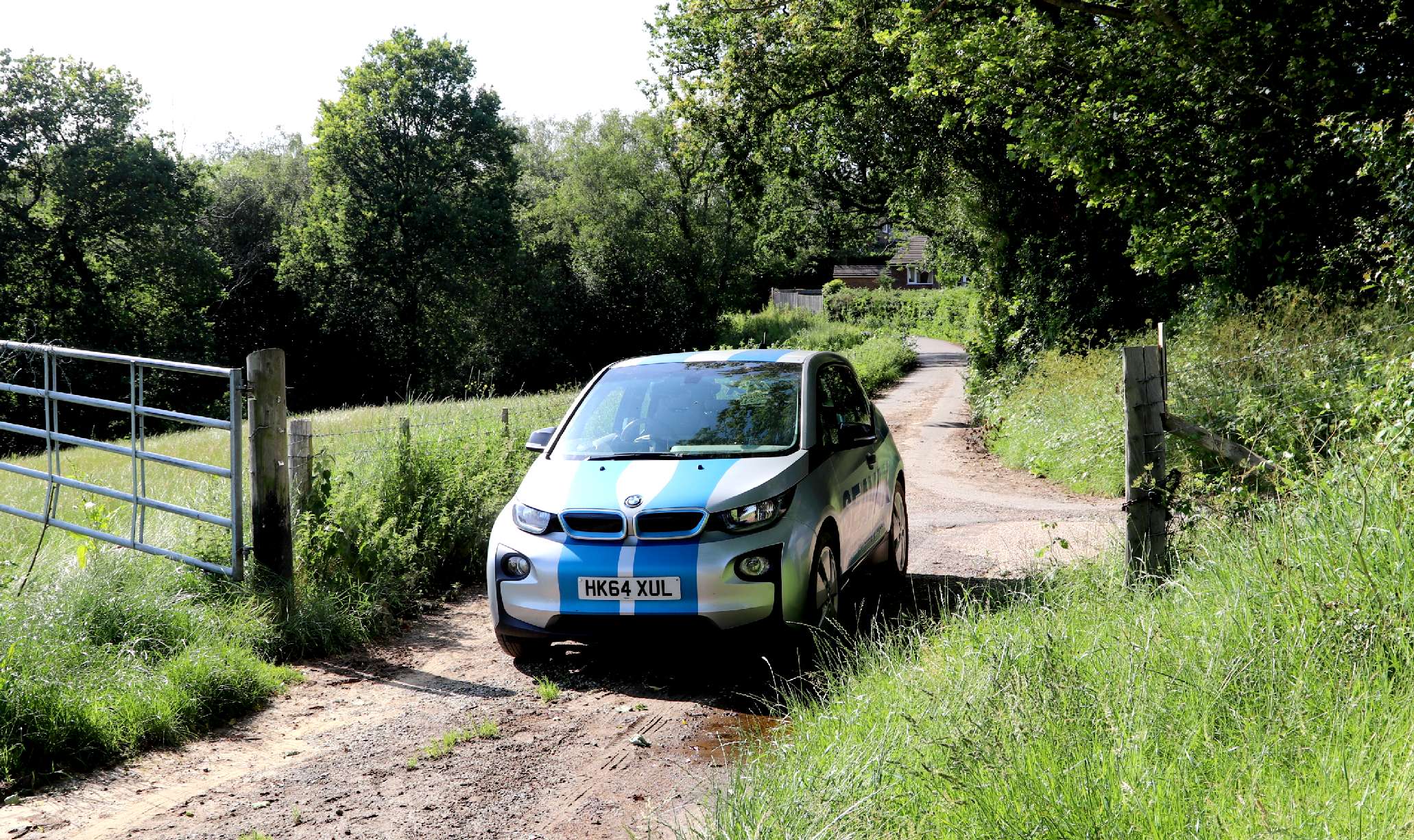 SERVICES - Unusually, the Generating Works is the only building in the village served by three roads. The other properties in Lime Park have north and south access roads, with the southern access feeding off Church Road. While the northern access feeds from the A271 entrance (popularly) to the cricket grounds and tennis courts, etc. Whereas, the Generating Works has a third access, from Lime Cross, heading for the coal bunker to the rear of the building. These service roads are important features historically and must be preserved for posterity. The car in the picture is electric, by the way. We will all be driving clean one day, with a bit of luck. Sporty too this one, a BMW i3, 170 horsepower and made of carbon fibre. This model with an onboard generator, as a range extender - is to be used as a shuttle, to ferry visitors from car parks in the village.
PLEASE NOTE: There is no access for ordinary (public) traffic, this is a private road (right of way) for those visiting Lime Park on Open Days.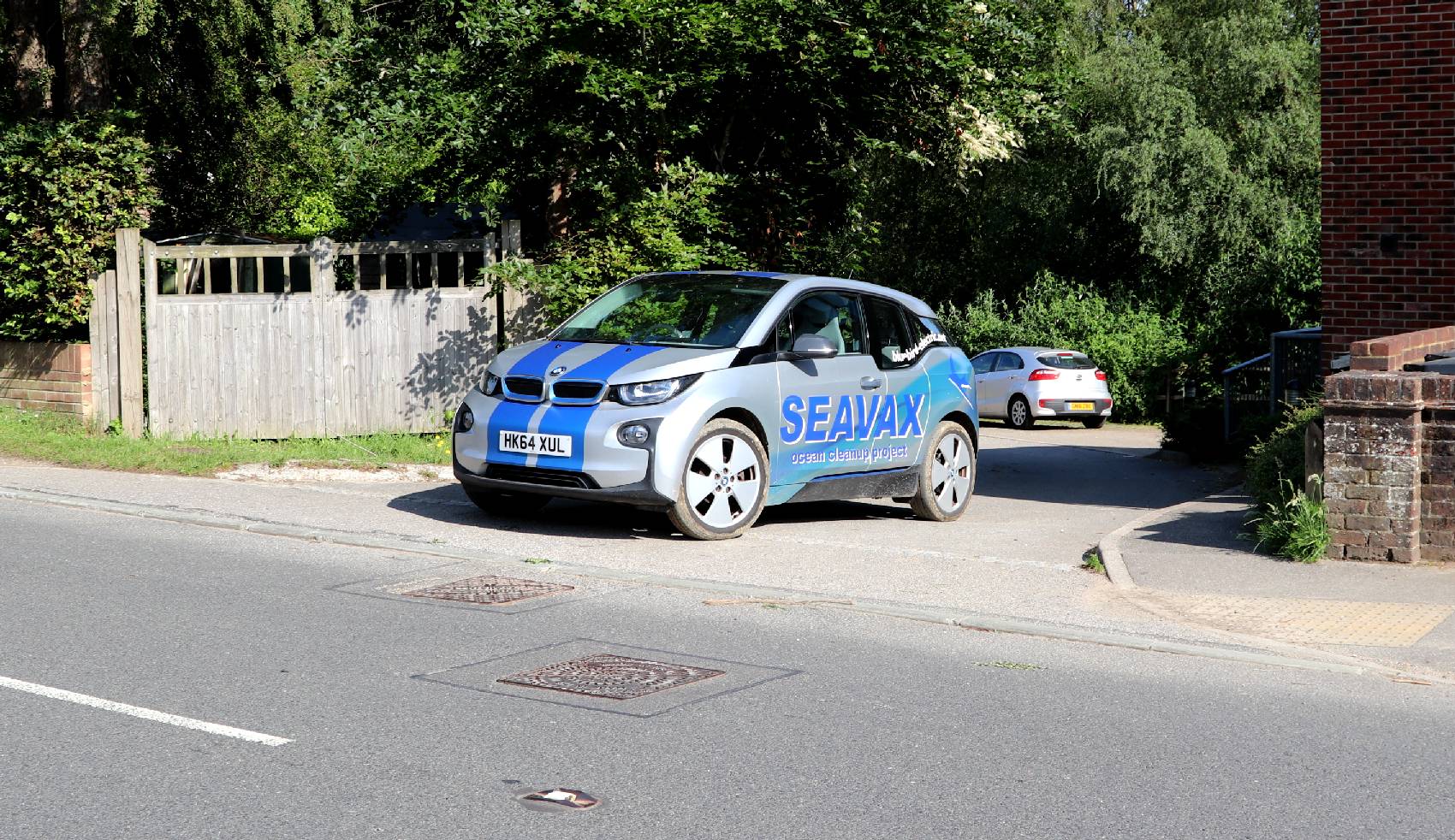 NORTH LODGE - This is the entrance from the A271, Hailsham Road. North Lodge was the gatehouse at the other end of the service road to Lime Park, sadly demolished in the march of time.
As we write, the world's only surviving wooden electricity distribution station, has no reasonable or beneficial use, and is looking to resolve this dilemma. The Trust who is the deemed owner from gift and long occupation, is seeking a use to generate an income for the upkeep of what is quite a sizeable roof area, with weed encroachment and grass to cut, etc. The Charleston Trust, faced a similar problem during Covid-19.
Fortunately, the building endures for now, and hopefully for long enough to gain World Heritage Site recognition.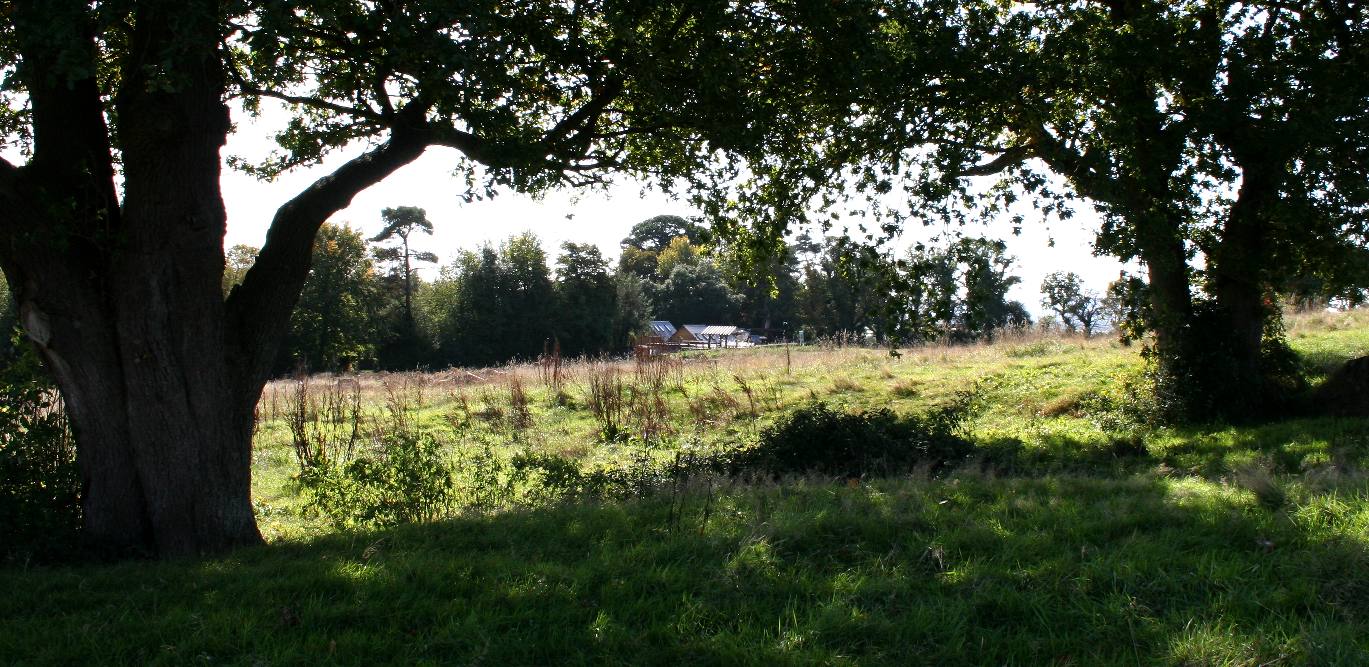 HERITAGE VIEW - A familiar sight to walkers in Herstmonceux, but the building in the distance is one of the most important surviving generating buildings in the world, because of the load-levelling of the public electricity supply, using a large battery store. An added complication, that most municipal installations lacked. But this feature is essential in the fight against climate change. Where renewable supplies are not constant, so need buffering, a bit like a large capacitor is used to smooth current flow in electrical circuits. We need to protect this unique example of rural electrification, so many years ahead of its time in terms of the technology applied to solve, what was at the time a noise problem.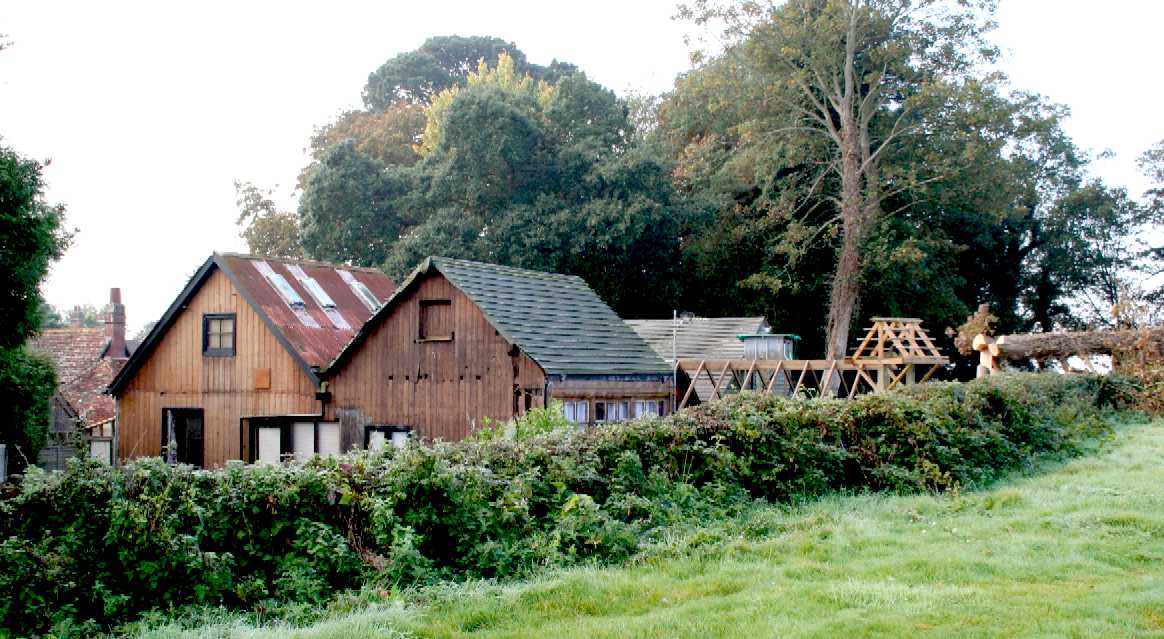 POTENTIAL (FUTURE) UNESCO WORLD HERITAGE SITE CONTENDER - See: Margaret Pollard's memories of Herstmonceux 2005, London University survey 1999, and Ronald Saunders statement July 1997, if you like reading in-person historical accounts. The generating works is seen here in 2014. Note, that in this picture, the north wing has been taken down. This is now partially re-instated. The cost of reinstatement and general upkeep, has been and is considerable. World Heritage Site status depends on keeping the building from deteriorating.
TIME STANDS STILL FOR NO MAN
Technology is moving at such a pace, that we may now expect to see robotically operated autonomous vehicles, that literally drive themselves. These are called robotaxis and robotrucks. With solar and wind power replacing coal and nuclear, the world may finally have a chance at creating a circular economy based on renewable electricity and hydrogen storage. How will Historic England respond to that? Will they protect petrol and diesel pumping stations. How many have they earmarked so far as potential sites to be protected? If the history of Herstmonceux Generating Works is any guide as to general malaise, we'd bet none are so far identified. Though, if in the Sussex geographical region, they would be of interest to us.

LINKS & REFERENCE
https://www.nationaltrust.org.uk/batemans
https://batterseapowerstation.co.uk/