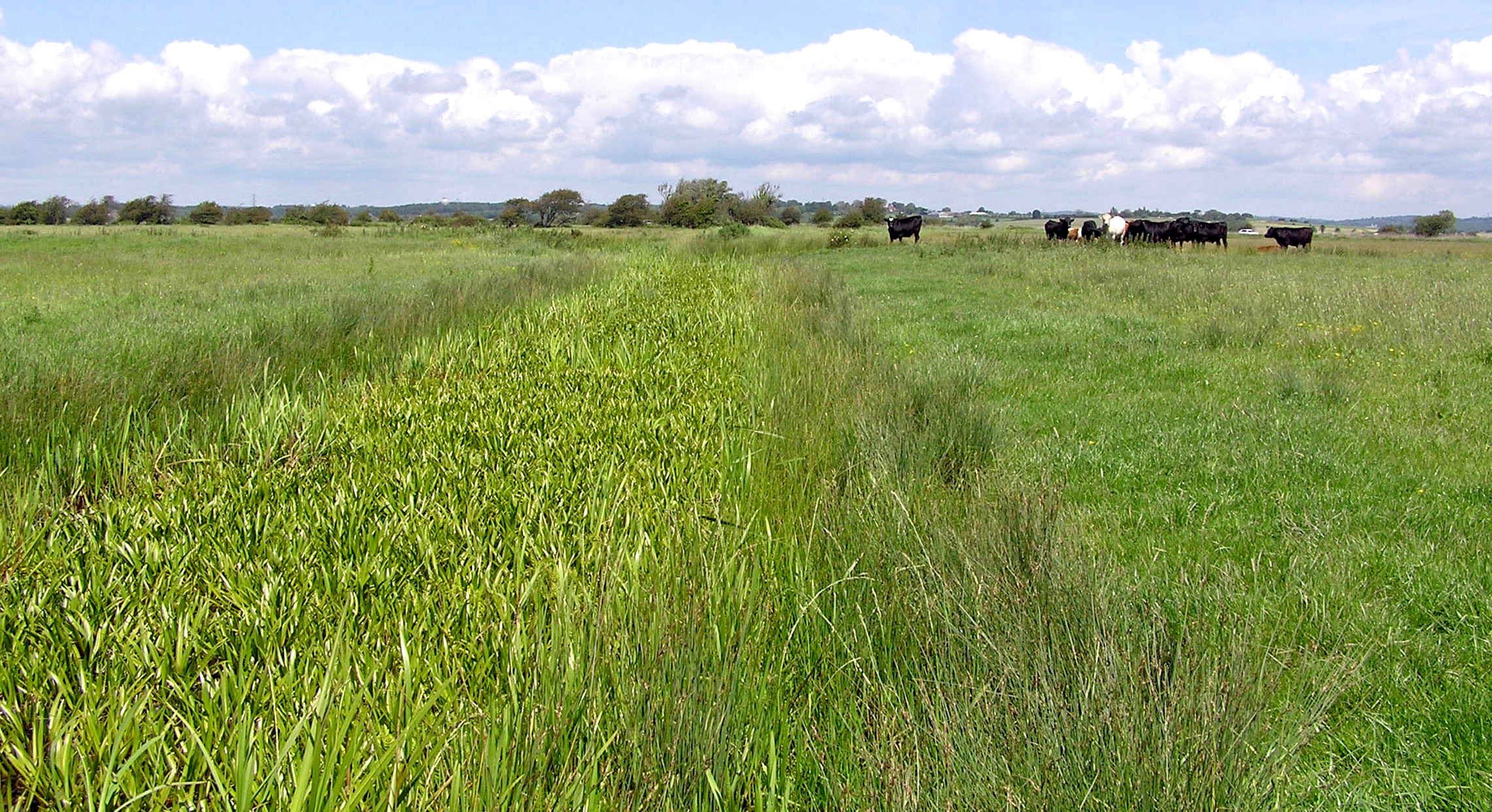 The Convention on Wetlands of International Importance especially as Waterfowl Habitat ('Ramsar Convention' or 'Wetlands Convention') was adopted in Ramsar, Iran in February 1971.
PEVENSEY MARSHES
Pevensey Marshes is a large low lying area of wet grassland. Over 3,500 hectares is designated a Site of Special Scientific Interest (SSSI) for its rich aquatic flora and fauna and we own nearly 150 hectares of land here.

While much of the Pevensey Marshes has been historically drained for agricultural purposes, we try to keep our land as wet as possible to allow wildlife to flourish. We work with local graziers whose cattle graze at low numbers through the summer and, if it is not too wet we graze with sheep in the winter. This keeps the grass at a level suitable for waders such as Lapwing and Redshank to breed.

This reserve, like many others, is maintained by grazing livestock. The livestock is provided by three local farms. Some of the milk from these cows is used to make organic yogurt and smoothies by Court Lodge Organics.

Pevensey Marshes is one the few Trust nature reserves that is not open to the public. Main habitats: wet meadows, scrub, willow carr, freshwater fen, pools and managed ditches. Area: 4,300 ha
PEVENSEY LEVELS - FEATURES OF INTEREST

Pevensey Levels is very popular with bird watchers, using the country lanes and Rights of Way (including the 1066 path) crossing the marsh. The lanes are also very popular with cyclists.

The Pevensey Levels lie between Eastbourne and Bexhill-on-Sea.

The part of the NNR owned by Natural England is currently closed to the public except for the eastern-most field. This is because the rest of the site is so fragile that unrestricted access would damage the wildlife interest.

To the north of the NNR lies a 132 hectare reserve, owned and managed by the Sussex Wildlife Trust, which was declared a National Nature Reserve in July 1996. Access is by permit only, but the trust organises guided walks in the summer.

Species on the NNR include 20 species of dragonfly and damselfly, including black-tailed skimmer, Orthetrum cancellatum, and red-eyed damselfly, Erythroma naja. Rare invertebrates include the fen raft spider, Dolomedes plantarius, and several species of water snail and water beetles.

Waders and wildfowl include redshank, lapwing and snipe. Smaller birds of wetland habitats include reed bunting, yellow wagtail, reed, sedge and Cetti's warbler.

Wetland plants include the rare sharp-leaved pondweed Potamogeton acutifolius and narrow-leaved water plantain Alisma lanceolatum.

DIRECTIONS

The nearest railway station is Norman's Bay on the Eastbourne – Hastings line.

The nearest bus service is the Stagecoach 99 stopping at Cooden, 4 kilometres east of the reserve.

The reserve is half way along a narrow lane running between the A27(T) – A259(T) roundabout and the junction with the B2182 in Cooden. Roadside parking is limited to 1 or 2 cars.

The Sustrans National Cycle Route 2 (Downs and Wealds) passes through the reserve.
Pevensey Levels; England; 3,578 ha; 50°50'N 000°21'E. National Nature Reserve. The site is one of the largest and least fragmented lowland wet grassland systems in southeast England, including a small area of shingle and intertidal muds and sands.

The low-lying grazing meadows are intersected by a complex system of ditches which support rare and scarce aquatic plants and invertebrates (freshwater molluscs and dragonflies Odonata spp) as well as breeding and wintering wildfowl. The area is used for nature conservation, pastoral agriculture, tourism, fishing, and hunting. Ramsar site no. 973. Most recent RIS information: 1999.
RAMSAR CONVENTION
A Ramsar site is a wetland site designated to be of international importance under the Ramsar Convention, also known as "The Convention on Wetlands", an intergovernmental environmental treaty established in 1971 by UNESCO, which came into force in 1975. It provides for national action and international cooperation regarding the conservation of wetlands, and wise sustainable use of their resources. Ramsar identifies wetlands of international importance, especially those providing waterfowl habitat.

As of April 2022, there are 2,437 Ramsar sites around the world, protecting 254,691,993 hectares (629,357,620 acres), and 171 national governments are participating.
The UK ratified the Ramsar Convention and designated its first Ramsar Sites in 1976. The UK's ratification also extends to its Overseas Territories and Crown Dependencies, within which the first Ramsar Site was designated in 1990. While the initial emphasis was on selecting sites of importance to waterbirds, now non-bird features are increasingly taken into account, both in the selection of new sites and when reviewing existing sites.

The designation of UK Ramsar Sites has generally been underpinned through prior notification of these areas as Sites of Special Scientific Interest (SSSIs) (or Areas of Special Scientific Interest (ASSIs) in Northern Ireland). Accordingly, these receive statutory protection under the Wildlife & Countryside Act 1981 (as amended), the Nature Conservation (Scotland) Act 2004 (as amended) and the Nature Conservation and Amenity Lands (Northern Ireland) Order 1985 (as amended). Government and the devolved administrations have also issued policy statements relating to Ramsar Sites which extend to them the same protection at a policy level as Special Areas of Conservation and Special Protection Areas.

JNCC provides scientific advice to the UK statutory nature conservation agencies (or the relevant administration in the case of Overseas Territories and Crown Dependencies) to support the proposal and designation of Ramsar Sites. JNCC also participates in delegations to national and international Ramsar meetings; assists Government with the harmonisation of Ramsar procedures worldwide; and co-ordinates the production of the UK's national report to the triennial Conferences of the Parties to Ramsar.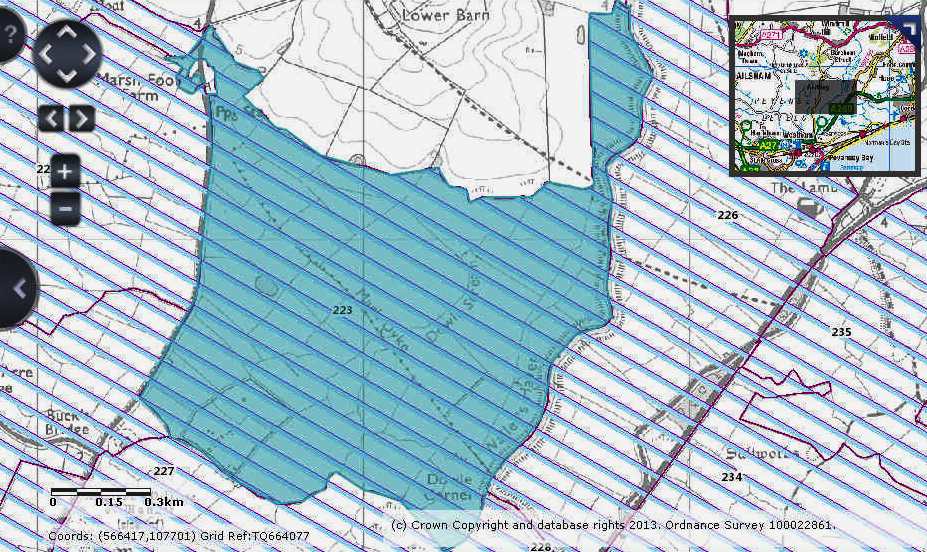 Map showing the extent of the Pevensey Levels

CONSERVATION

Following the discovery of D. plantarius on the Pevensey Levels in 1988 (Kirby 1990), English Nature (now Natural England) commissioned a large-scale survey of its range and abundance in 1990 (Jones 1992). This survey, of ca 90 km of ditches throughout the SSSI and in adjacent areas, revealed a very extensive population. In the areas of best habitat, primarily on the lower-lying marshes drained by pumping rather than the higher gravity-drained areas, densities were often very high with nursery webs averaging one per 2 m of bank. Away from this core area, however, the gravity-drained marshes supported a much lower population density and the population appeared to be very fragmented. On the basis of nursery web counts, the total adult female population was estimated to be in the order of 3,000 at a time when the Redgrave and Lopham Fen population was thought to have, at best, only tens of adult females. More recently, largely through survey work in relation to planning issues around the fringes of the Pevensey Levels, several new outliers of the D. plantarius population have been discovered, expanding its known boundaries.

Although the Pevensey population was much larger than that at Redgrave and Lopham Fen in 1990, it is widely considered that habitat quality on the Levels had declined during the previous fifty years. Drainage schemes implemented in the 1960s and 1970s substantially reduced water levels and allowed further conversion of pasture to arable. Water quality also declined and some of the main channels became eutrophic. A further threat to the rich species assemblages of the ditches has come from dramatic increases in the populations of invasive non-native water plants, including Azolla filiculoides, Crassula helmsii and Hydrocotyle ranunculoides.

Since the early 1990s, efforts by the Environment Agency, Natural England, the Sussex Wildlife Trust and local landowners, have addressed these problems and resulted in major changes in water level and land management on the Levels. A Wildlife Enhancement Scheme (WES) on the SSSI provided landowners with tiered financial incentives for environmentally sensitive practices, including water level and ditch management, reduced stocking rates and restrictions on agrochemical use. More recently, the introduction of a series of agri-environment schemes has provided further opportunities for landowners throughout the area to receive financial incentives for management practices that benefit wetland wildlife. Improved water level management has been made possible largely by the modification of existing sluices and construction new ones, together with better management of abstraction for public water supply.

THE FUTURE
To assess the response of D. plantarius to the changes in management on the Pevensey Levels, and to monitor changes in the extent and status of the population, a systematic, long-term, population monitoring programme is urgently needed for the area. Since the 1990 survey, data collection has been piecemeal with the only systematic monitoring focused on the Sussex Wildlife Trust reserve. There, since 2013, nurseries have been counted on each ditch, at one point during the summer, every five years.

Climate change models predict that the Pevensey Levels will become much less suitable for D. plantarius over the next 50 years (Leroy et al. 2013). However, potentially on a much shorter time-scale, sea level rise and an increasing incidence of extreme high tides must be seen as a threat to this population, the greater part of which is on the lowest-lying, pump-drained Levels that were reclaimed from salt marsh in the Middle Ages.


REFERENCES

Jones, E. 1992. The status of Dolomedes plantarius (Clerk) on Pevensey Levels, East Sussex in August 1991. English Nature, Peterborough.

Kirby P. 1990 Dolomedes plantarius in East Sussex, Newsletter of the British Arachnological Society 58: 18.

Leroy, B., Paschetta, M., Canard, A., Bakkenes, M., Isaia, M. & Ysnel, F. 2013. First assessment of effects of global change on threatened spiders: potential impacts on Dolomedes plantarius (Clerck) and its conservation plans. Biological Conservation 161: 155–163.

LINKS
https://jncc.gov.uk/our-work/ramsar-convention/
https://www.dolomedes.org.uk/conservation/Pevensey_Levels
https://www.gov.uk/government/publications/east-sussexs-national-nature-reserves/east-sussexs-national-nature-reserves