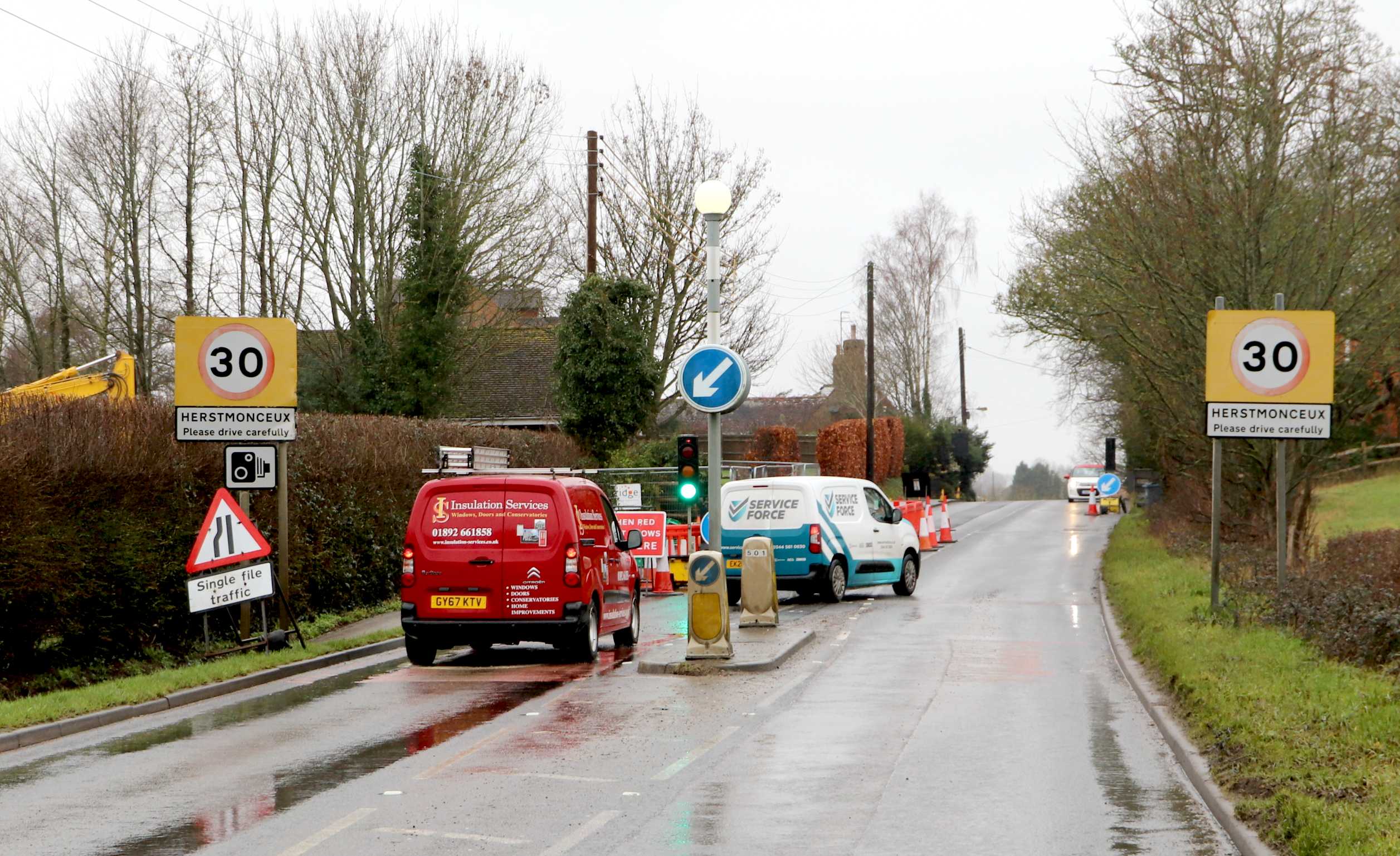 SUICIDE JUNCTION 2021 - Is this one of the most dangerous junctions in Sussex? That is the view of many local residents who objected most strongly to the proposal that may see up to 70 more houses access an A road that is itself substandard and overloaded. It is a pothole nightmare, another issue of concern to people that are forced to drive along this poorly maintained stretch of road. It cannot get better with more traffic to cope with, it can only get worse.
You may agree that the Parish Council in Hertsmonceux is partly responsible for engineering a dangerous situation on the busy A271 because of the substandard visibility splay and the position near the brow of a hill - in relation to a major development of up to 70 houses. Then there are the potholes that are getting worse year on year.
They failed to take the objections of hundreds of local residents into consideration, simply voting with Wealden District Council, to turn the once charming village, into a housing estate for a renting society that is making financial slaves of young local families who have no choice as to affordable housing. Because there is none in the village of Herestmonceux. And in granting consents for more executive housing, these councillors are, effectively, helping drug and oil slush-money to be laundered - right under your noses.
How did this happen in a modern democracy?
We understand that such loopholes in the law, made the UK the most corrupt country in the world, as in the Money Laundering Capital of the World, are soon to be closed with the: 'Economic Crime (Transparency and Enforcement) Act 2022,' that is designed to crack down on dirty money and elites, such as those who so often underpin Vladimir Putin's leadership.
Hopefully, this will slow corrupt local councils, rushing to develop their fiefdoms from immoral earnings.
Notably, the only electric charging point in Herstmonceux village is at the Pharmacy. We think just one, for the whole village - population: 2,600. Nice one! There are a couple more at Tesco in Hailsham, and two more at Wealden's car park in Vicarage Lane. Making five for the whole of the area. For a combined population of 22,600. Of which at least 2,000 vehicles operate from Herstmonceux.
They've obviously not heard petrol and diesel vehicles are to be phased out by 2030. Out of touch or what!
Consistently, they have failed to recognise the most important archaeological asset relating to the development of the age of electricity, right on their doorstep. The only surviving example of which with load-levelling, C.1890, in the whole world. This monument is presently without a reasonable and beneficial use to pay for it's upkeep. The Trust who occupy the premises are seeking to rectify that with proposed charity registration in the pipeline, to be able to explore alternative uses that may generate an income.
Whenever this subject has been broached, the Parish Council have dodged the bullet, as has Wealden DC, most recently in failing to respond to correspondence in May and June of 2022. An admission as to their guilty minds.
At least in July 2022, Boris Johnson was finally given the order of the boot.