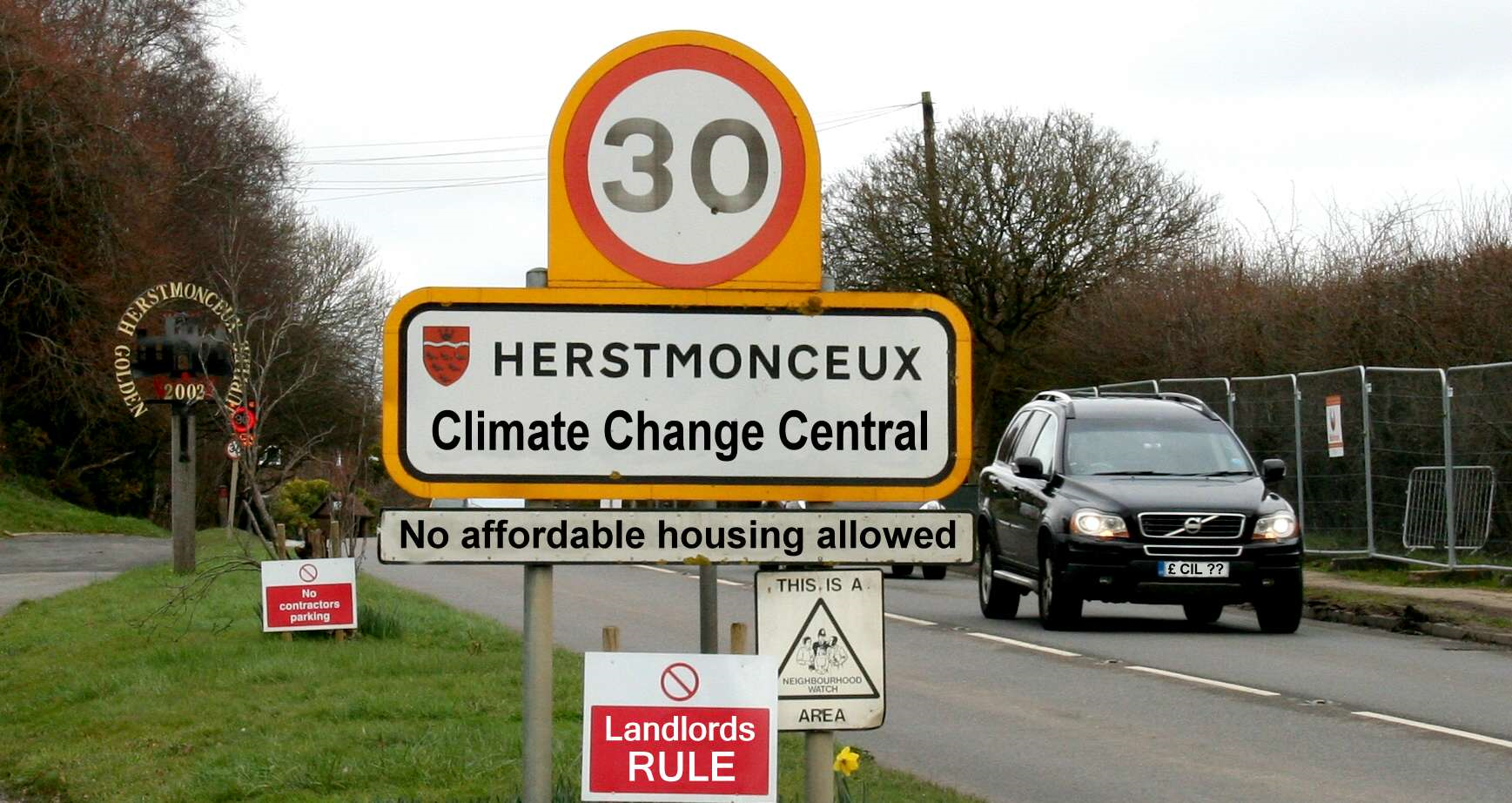 2020 - Herstmonceux in Sussex is not what it used to be. Villagers are being forced to rent in towns, rather than being able to live where they were brought up - at reasonable prices. In modern England, councils are operating against the interests of young families. Rents for new builds in Herstmonceux and exhorbitant. The rich get richer and the poor, poorer.
Once upon a time the sleepy village of Herstmonceux was a nice place to live in. Gardner Street ran from Hailsham, a market town, to Windmill Hill and on to Hastings, a seaside resort.
Locals could afford to live in the village and buy their own homes and raise a family, when houses were affordable. Now they are being forced out with housing priced to attract investment, rather than homes to promote village life and the countryside that our forefathers fought to defend during World War One and Two.
The village of Herstmonceux was relatively stable in terms of the population in relation to the ratio of services, but as other villages became overloaded with over priced housing development for the rich townies and landlord investors, the A271 suffered in terms of potholes. The High Street became a parking nightmare. Developments off Gardner Street violated the basic laws of nature, requiring pile driving to stabilise a bank that drained into a stream, as another example on inappropriate build.
Then there is a field that walkers, dogs and ramblers had enjoyed for over a hundred years unfettered, featuring two registered footpaths, but a much higher number of unregistered footpaths, now the subject of some concern by the Herstmonceux Walkers Association.
The field is set to be developed to swell the coffers of the council with CIL payments for infrastructure improvements that will never happen. The proposed development also requiring the build of a sewage works by Southern Water to pump the human waste uphill to a treatment plant near Windmill Hill. All on the promise of affordable housing, but so far none of the developers promising low carbon housing has delivered. It is all a sham, to get the permission, and then claim no money to build the affordable units. In our book that is fraud, that Wealden are part of where there are no enforceable agreements and no bonds as security in the event of default.
Also of concern is that the Secretary of State recently rejected Wealden's Local Plan, raising questions as to whether or not the planners knew what they were doing when passing an application to build 70 homes on a field were drainage and groundwater pollution are known problems.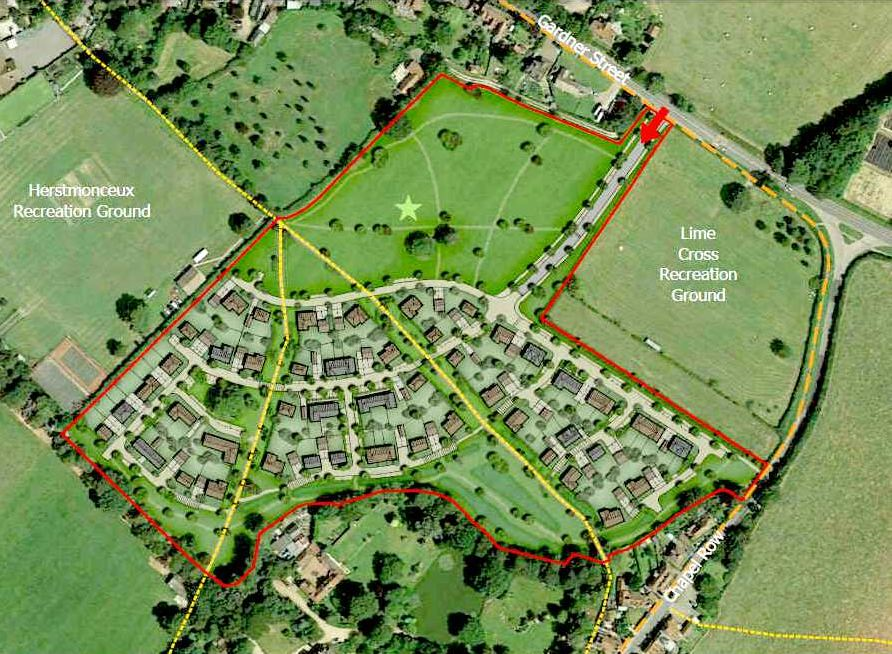 COUNTRYSIDE ABOMINATION - If you buy one of these (proposed) houses, not only will you be adding to global warming, but you could be letting yourself in for many years of litigation, not least of which is the potential to be charged under groundwater contamination laws. At lest 40% of the houses shown are in a direct line to poison the only working well in the village - in the lower left of the picture.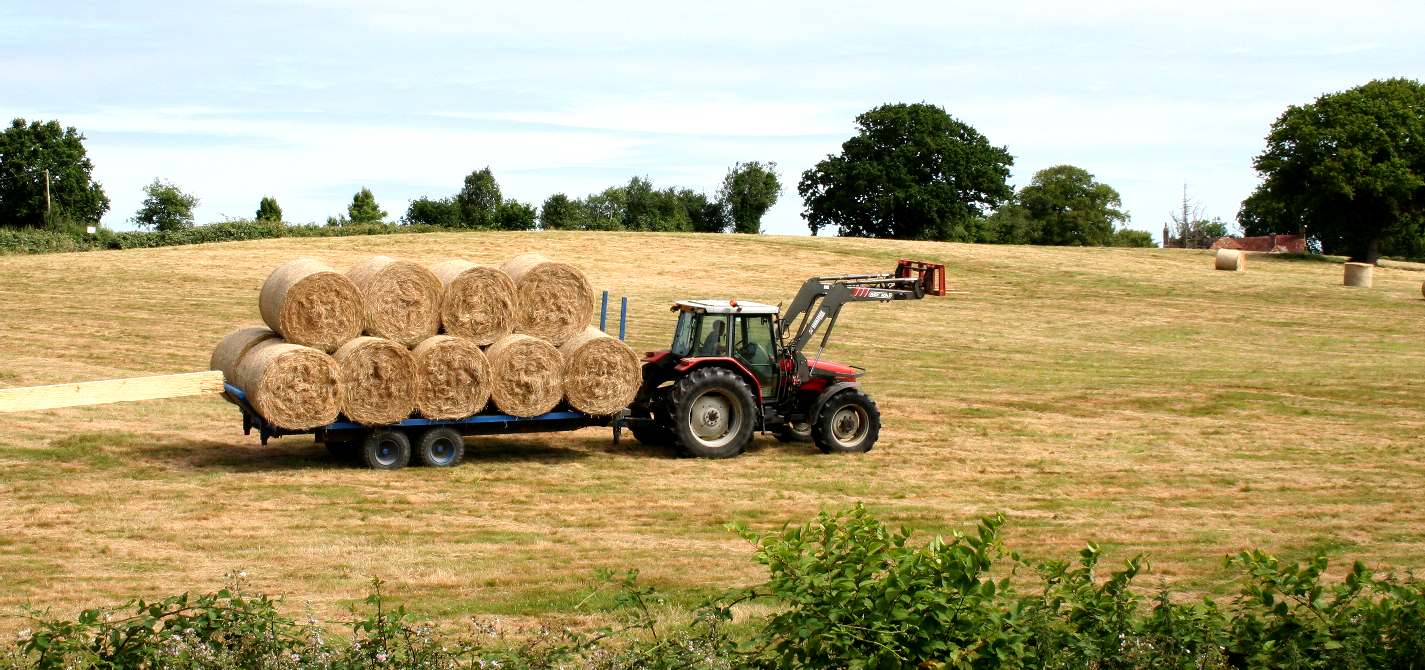 GLOBAL WARMING
The Wealden district encompasses some of the most beautiful countryside and sea views in the United Kingdom. There is though an acute shortage of genuinely affordable housing and the area produces a good deal of greenhouse gases leading to temperature rises that will affect many other regions on earth and raise sea levels with dire consequences. There are very few electric vehicle charging points and no infrastructure plan for EVs making local taxes appear extortionate in relation to returns. Planning for a sustainable future is virtually non-existent. Why then are we being forced to pay so much Council Tax if all our councils are doing is adding to Global Warming?
The Walkers Association is a group dedicated to protecting the pathways that villagers of Herstmonceux have enjoyed within living memory. Where there was a footpath circling this area, Southern Water have been working with the developers to cut off access for walkers. That is why the Association think it is time to act.