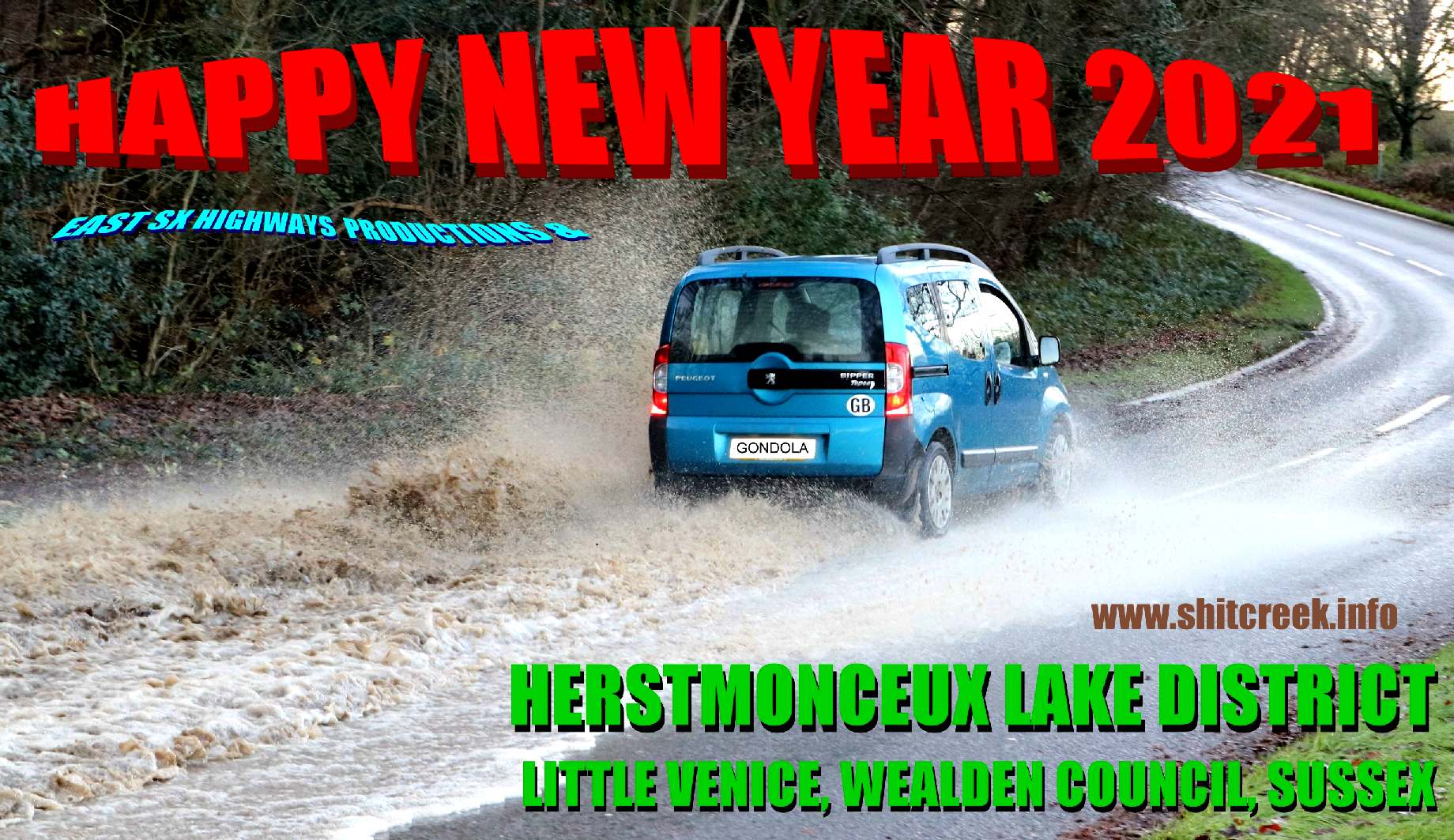 2021 THE NEW LAKE DISTRICT - Seasons best from the Lake District of Wealden, known locally as 'Little Venice.' The Council's agenda to turn this area into a water attraction appears to be working beautifully. By building brick houses as fast as they can go, they are helping to raise the temperature of the planet, so helping desert areas such as the Sahara to increase as a sandy tourist attraction in Africa. Also a boon for Egypt and tourists visiting the Pyramids.
From reading Wealden's planning agenda of build, build, build - it's a win, win situation if you like it hot. They'll be breaking out the gondolas, presumably, giving one away free to each person buying a house in this location, to help the locals make the most of their new watery environment. Eventually roads could become canals, with operatic music mandatory from local hostelries.
Interestingly, this artificial lake feeds a RAMSAR site, so we hope they are taking precautions to filter out the harmful hydrocarbons from washing the underside of the passing vehicles. Oh, yes, another benefit to motorists is the free chassis clean. Though Wealden officials may start charging, once this service really gets going as another form of Community Infrastructure Levy to top up the officer's pension fund. Not forgetting those enhanced payoffs for early retirement, after each cock up as hush-money. Cheaper than a gagging order by half.
Thank you Wealden Council. What would we do without you. We are sure those benefiting from your actions in desert areas, and the polar bears in the Arctic, would also like to thank you. Perhaps in the afterlife - and sooner than you think with anthropogenic efficiency.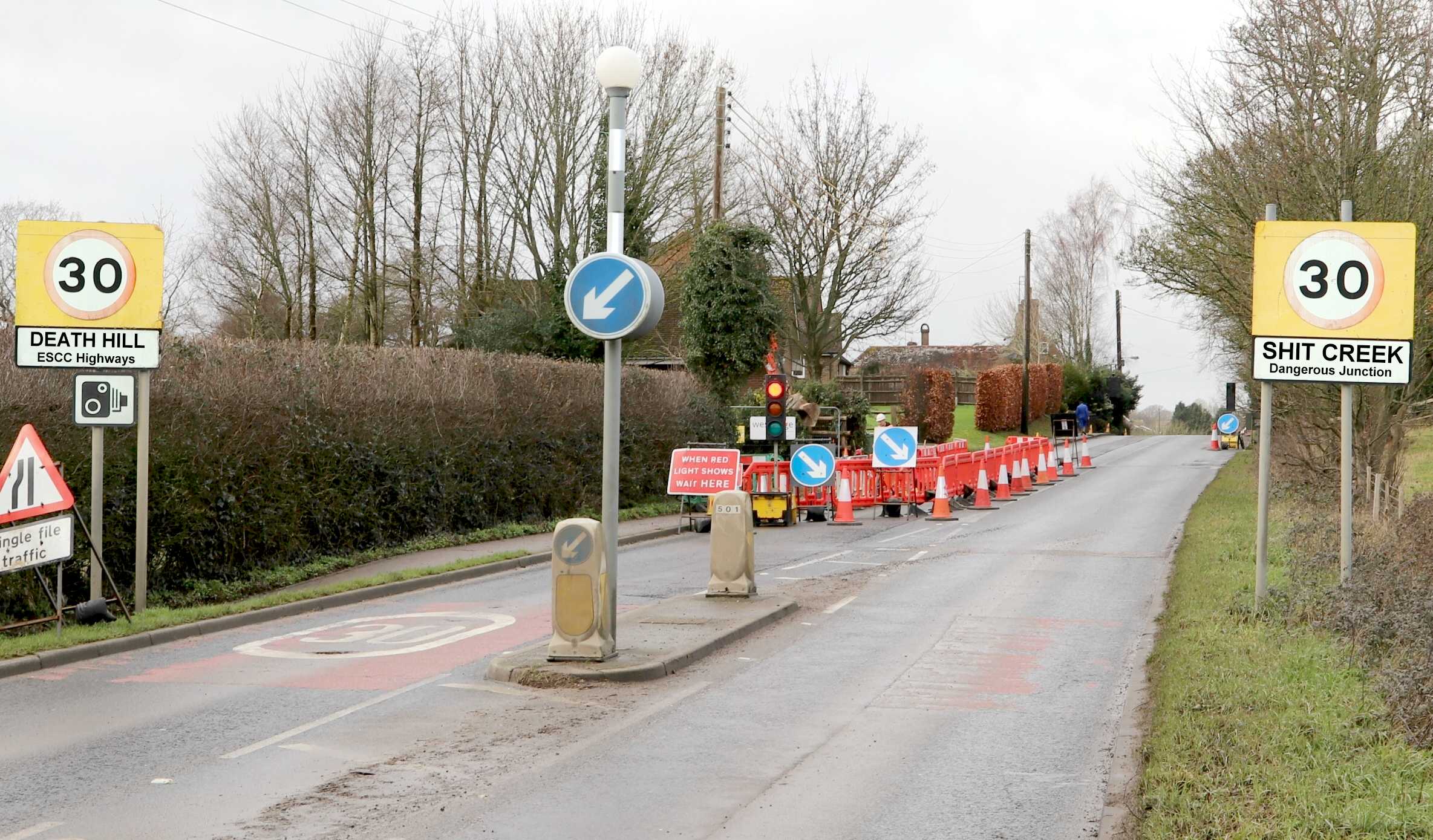 SUICIDE JUNCTION 2021 - Is this one of the most dangerous junctions in Sussex? That is the view of many local residents who objected most strongly to the proposal that may see up to 70 more houses access an A road that is itself substandard and overloaded. It is a pothole nightmare, another issue of concern to people that are forced to drive along this road. Allegations being made is that planning favours were made, in passing such a sub-standard access. It is not known if this involves the Parish or District councils, or both. We understand that the question as to the Register of Interests has been asked.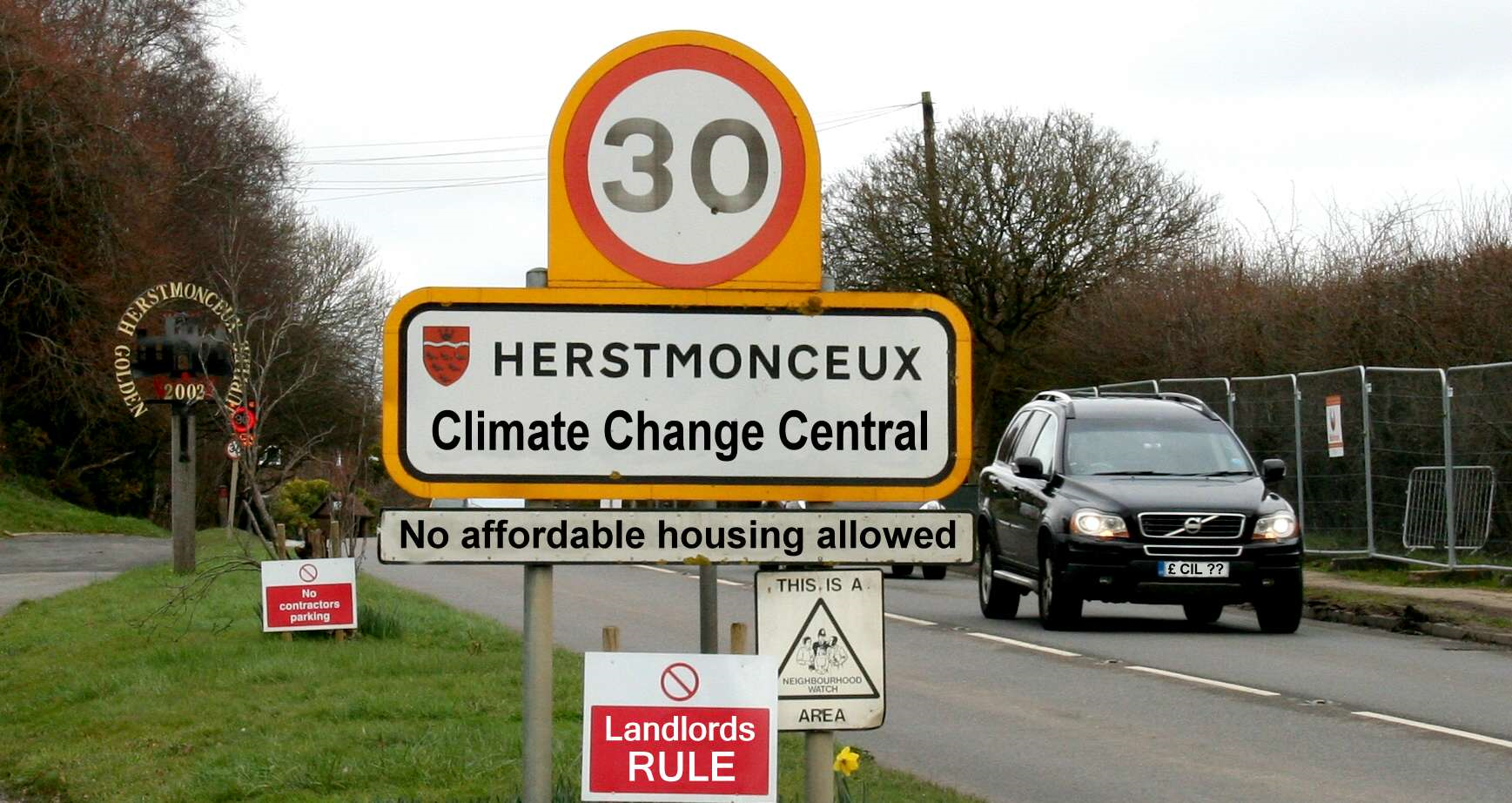 2020 - Herstmonceux in Sussex is not what it used to be. Villagers are being forced to rent in towns, rather than being able to live where they were brought up - at reasonable prices. In modern England, councils are operating against the interests of young families. Rents for new builds in Herstmonceux and exorbitant. The rich get richer and the poor, poorer.
Once upon a time the sleepy village of Herstmonceux was a nice place to live. Gardner Street ran from Hailsham, a market town, to Windmill Hill and on to Hastings, a seaside resort on a track designed for horses and carriages.
Locals could afford to live in the village and buy their own homes and raise a family, when houses were affordable, even for agricultural workers, the salt of the earth. Now, locals are being forced out with housing priced to attract landlord investment, rather than homes to promote village life and the countryside that our forefathers fought to defend during World War One and Two.
The village of Herstmonceux was relatively stable in terms of the population in relation to the ratio of services, but as other villages became overloaded with over priced housing development for the rich townies and landlord investors, the A271 suffered in terms of potholes - it is not up to the increase in traffic. The High Street became a parking nightmare as car ownership quadrupled. Never mind that there is no gas mains and dodgy mobile phone signal, you can always have oil fired central heating, or electric storage heaters. Developments off Gardner Street violated the basic laws of nature, requiring pile driving to stabilise a bank that drained into a stream, as another example of inappropriate build.
Then there is a field that walkers, dogs and ramblers had enjoyed for over a hundred years unfettered, featuring two registered footpaths, but a much higher number of unregistered footpaths, now the subject of some concern by the Herstmonceux Walkers Association.
PROPERTY VALUE PLUMMET PREDICTED
The recent developments along Hailsham Road, and those proposed near Lime Cross, are expected to have the effect of reducing the value of property in the Herstmonceux area generally as the overcrowding increases, turning it into a rental void and loss maker generally for investors silly enough to bite the bullet. Planners and developers don't seem to have thought about that as they piled on the agony for existing residents - without improving amenities - straining the limited existing road network to breaking point. The same goes for the sewerage, where there have been unhealthy leaks, many are saying it can only get worse.
Check out the values on Zoopla, Purple Bricks and Right Move for yourselves, then check back next year, to see how your investment fared. Even more house are threatened where the old Geo-Collins Garage (was a Honda dealer) also has consent for houses.
BROWN CLIFFS ABOMINATION No1 - Unlike Dover, with their beautiful white cliffs, in Wealden they like the colour brown so much they gave planning permission to build this artificial edifice in the country - taking with it the natural beauty of the countryside for walkers - and - or so it seems, polluting the watercourse downstream. They call the mini-estate Woodlands View, including Elm Close, Hawthorn Lane and Oak Way.
The field is set to be developed to swell the coffers of the council with CIL payments for infrastructure improvements that will never happen while the country is swamped by debt. The proposed development also requiring the build of a sewage works by Southern Water to pump the human waste uphill to a treatment plant near Windmill Hill. All on the promise of 25 affordable housing units, but so far none of the developers promising low carbon housing has delivered. It is all a sham, to get the permission, and then some way through the development, claim that they have no money to build the affordable units. In our book that is fraud, that Wealden are part of where there are no enforceable agreements and no bonds as security in the event of default or insolvency.
Also of concern is that the Secretary of State recently rejected Wealden's Local Plan, raising questions as to whether or not the planners knew what they were doing when passing an application to build 70 homes on a field were drainage and groundwater pollution are known problems.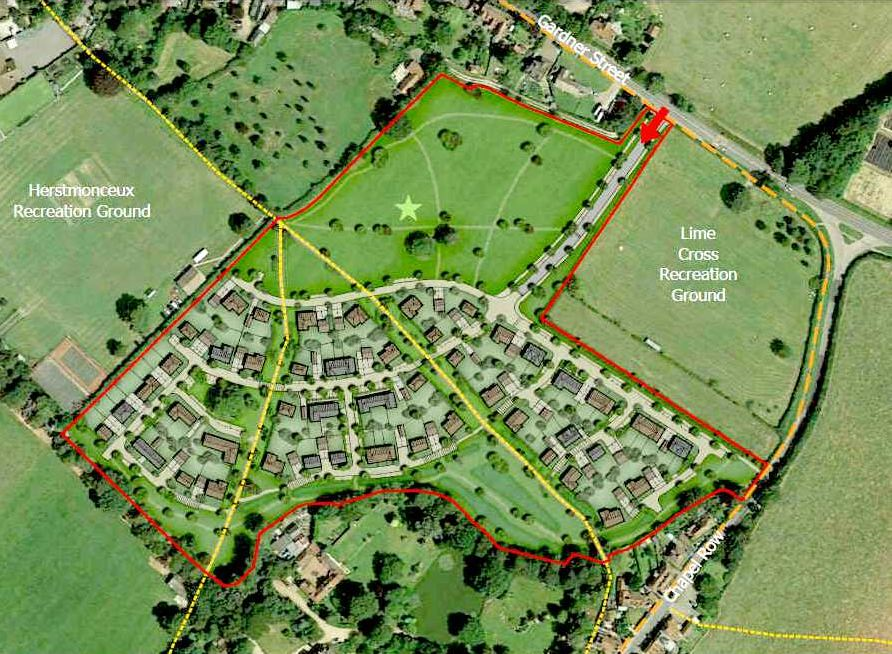 COUNTRYSIDE ABOMINATION No2 - If you buy one of these (proposed) houses, not only will you be adding to global warming, but you could be letting yourself in for many years of litigation, not least of which is the potential to be charged under groundwater contamination and wildlife and habitats laws. At lest 40% of the houses shown are in a direct line to poison the only working well in the village: Lime Well.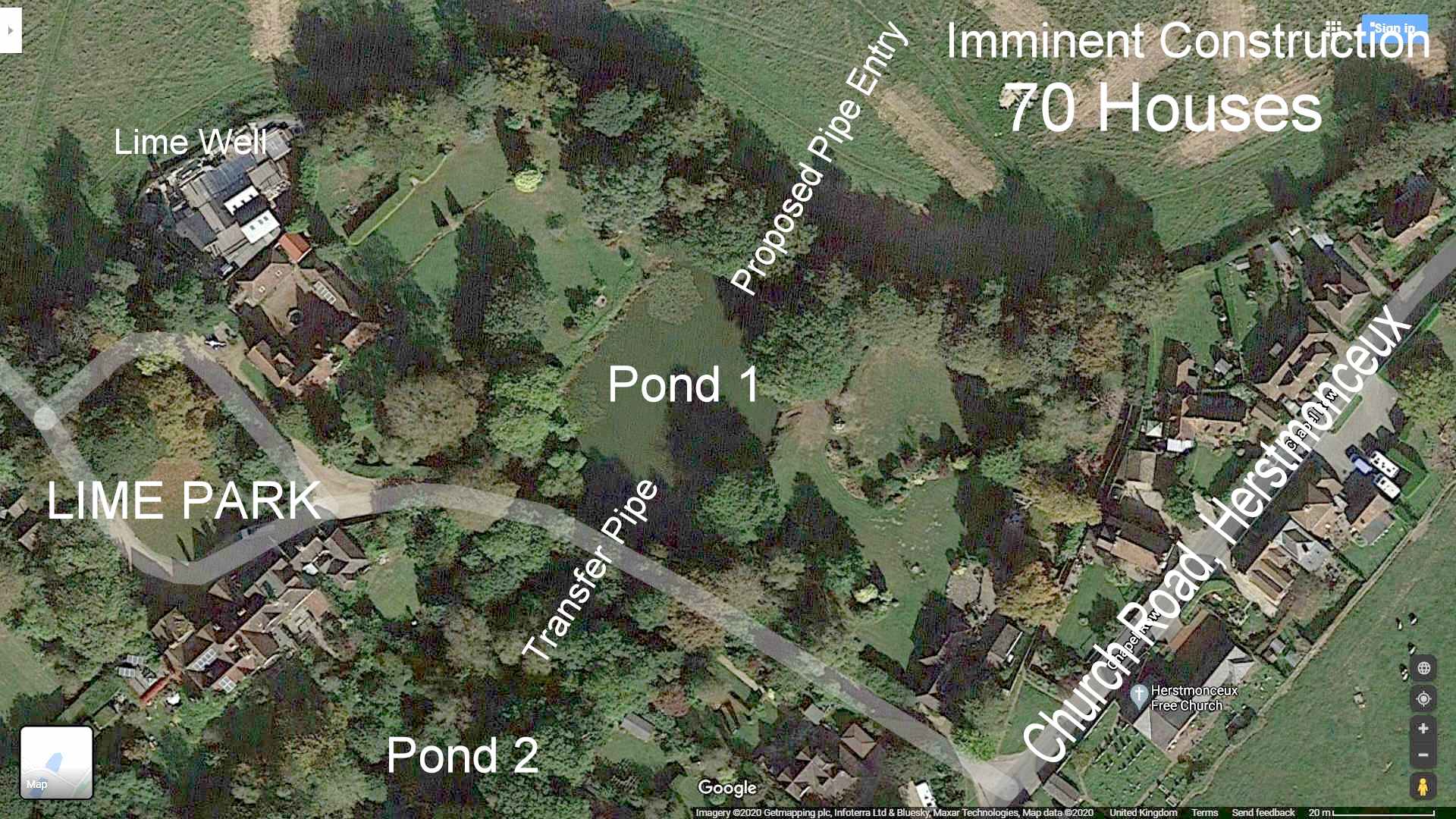 WILDLIFE POISONING CONSPIRACY - Just about all of the proposed houses will flush pesticides downhill into Lime Pond (centre lower), so killing the herons, ducks, fish, frogs and newts. Anyone party to the killing of these animals by poisoning, or the contamination of their environment, is liable to fines and imprisonment. We'd imagine remedial works would involved demolition of the houses, by way of a restoration order. And that is why a bond is needed. So why go there? The poisoning is inevitable - it's just a matter of time.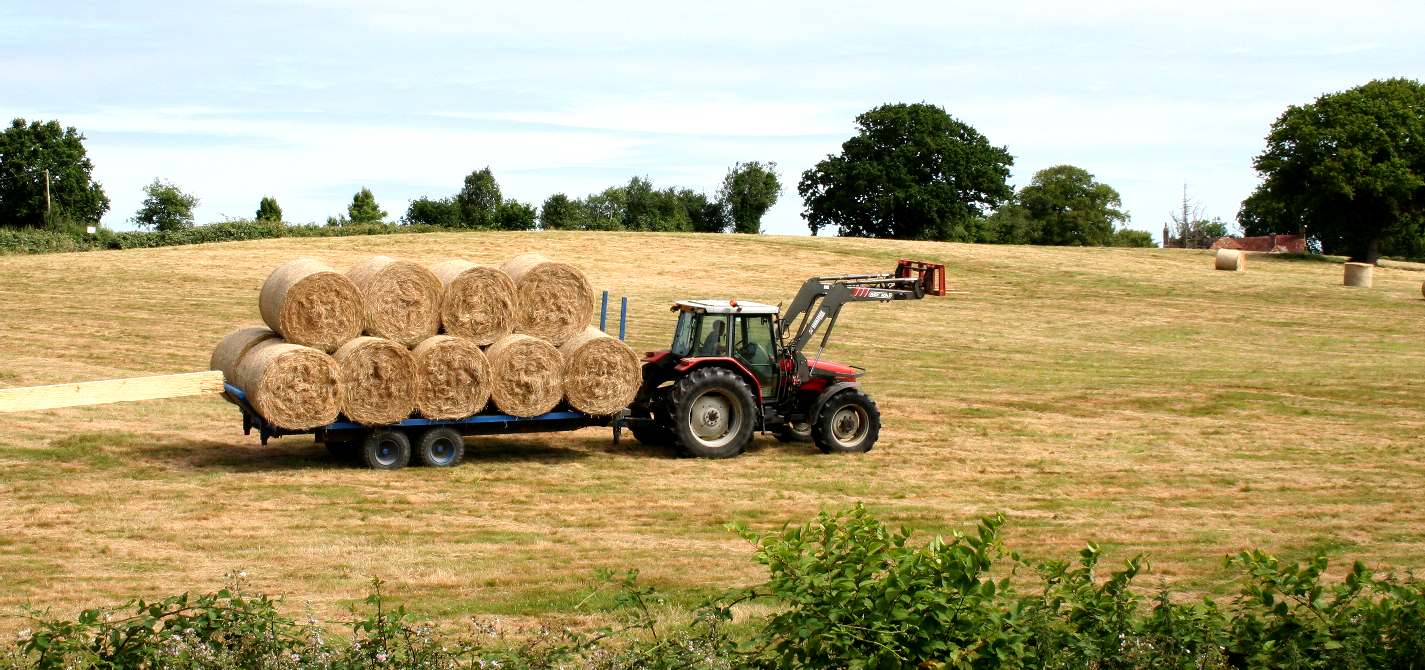 GLOBAL WARMING
The Wealden district encompasses some of the most beautiful countryside and sea views in the United Kingdom. There is though an acute shortage of genuinely affordable housing and the area produces a good deal of greenhouse gases leading to temperature rises that will affect many other regions on earth and raise sea levels with dire consequences. There are very few electric vehicle charging points and no infrastructure plan for EVs making local taxes appear extortionate in relation to returns. Planning for a sustainable future is virtually non-existent. Why then are we being forced to pay so much Council Tax if all our councils are doing is adding to Global Warming?
The Walkers Association is a group dedicated to protecting the pathways that villagers of Herstmonceux have enjoyed within living memory. Where there was a footpath circling this area, Southern Water have been working with the developers to cut off access for walkers. That is why the Association think it is time to act.